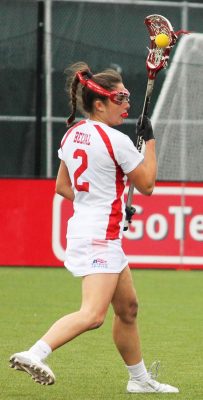 Coming off its most dominant performance of the season on Wednesday against Colgate University, the Boston University women's lacrosse team hopes for another positive result when it competes at Lehigh University Saturday afternoon.
The Terriers (4-5, 2-1 Patriot League) are just days away from their impressive 18-8 home triumph over the Raiders (4-5, 1-2 Patriot League).
Going into BU's matchup with Colgate, head coach Liz Robertshaw said that her team — which needed to rebound after seeing its first winning streak of the season snapped Saturday when it fell 16-11 to Loyola University Maryland — had to address and handle that setback.
"[The team] talked about what [it] needed to do moving forward, and then on Monday and Tuesday the team did it," Robertshaw said. "I was really impressed with how they came out to practice. They were focused, they were intense and to be honest if they can continue that, it makes us really dangerous."
Playing at home after splitting results in a tough two-game road stretch with a win over Bucknell University and losing to the league-leading Greyhounds (4-6, 3-0), many of the Terriers' key threats responded, as they either had or matched career-highs on offense.
Defensively, BU was effective in limiting Colgate's most lethal offensive weapon, Isabel Kreitler (team-leading 24 goals and 31 points), to just two goals.
"I think [maintaining consistency] is going to be based on the leadership of the team," Robertshaw said. "The seniors [and] the captains [make] sure the team is focused on our goals. I think there's also going to be personal accountability on our players … whether [a player] is a freshman or a senior, if they can stay locked into the game plan when they are on the field, I think they can continue to do really well."
The going does not get any easier for the Terriers when they travel this weekend to play the Mountain Hawks (7-3, 2-1 Patriot League).
Much like the Terriers, Lehigh, which is one win behind league foe Lafayette College for best overall record (8-3) in the Patriot League, has an abundance of scoring options to pick from.
Robertshaw particularly highlighted Mountain Hawk's Allison LaBeau as a threat the Terriers must contain.
"One of the top [Lehigh] players we're looking to slow down in general is Allison LeBeau," Robertshaw said. "She does lead the team with 44 points and she's a really good player so she's someone who [we] need to limit her looks."
Robertshaw sees this weekend's success on defense coming down to a unified team effort.
"And then after that, every single one of our middies and defenders have to be ready for any Lehigh player [trying] to go hard to cage and trying to get open but I think it has to be a team-focused defense," she said.