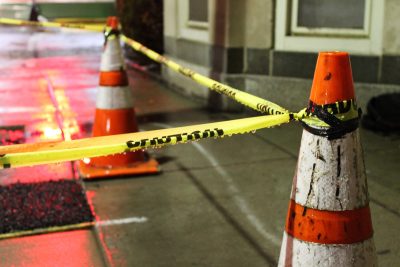 Following the shooting of a 5-year-old boy Sunday night in Roxbury, the Boston City Council's Committee on Public Safety and Criminal Justice met Tuesday night to address the issue of increased violence in Boston and to create a comprehensive plan to protect and defend Bostonians.
Monica Cannon is the organizer of the group Violence In Boston, an organization aimed at preventing violence among young people in the city. Cannon told The Daily Free Press before the meeting she thinks the roots of violence run deep.
"The unemployment and the lack of diversion programs is a problem, but there is also a social piece in this," Cannon said. "If you are in a small house, and you work two jobs and you have five jobs, there is a social piece that shapes the issue."
Cannon said the best way to decrease violence in Boston is by supporting and providing for families struggling to make ends meet.
"We need to ask parents what it is they need and how can we help, so that later they won't have to bury their child," Cannon said.
David Carabin, director of the Boston Regional Intelligence Center, opened the meeting by sharing the statistical breakdown of violence in Boston between 2015 and 2016.
"The last 10 years have been a systematic decrease in crime across most, if not all, crime categories," Carabin said. "We have seen substantial decrease [in crime] in over the past 10 years."
Crime in the city of Boston fell below the five-year average in all categories, Carabin said, noting a 13 percent decrease in property crime and 17 percent decrease in violent crime.
Gregory Long, superintendent of the city's Bureau of Investigative Services, said Boston residents and police officers must work together to build a relationship and prevent crime.
"Our number one goal is to find a justice for the victims and the community," Long said.
William Gross, superintendent-in-chief of the Boston Police Department, called on citizens to work together with the police to foster a relationship, help solve crimes and prevent future shootings.
"We can take constructive criticism and move forward to make the city the best that it can be," Gross said. "We should make a pact to work together and not tolerate the act of violence in this community."
Gross said the lack of cooperation between eyewitnesses, victims and Boston Police deters police from arresting the criminals.
"The only people that benefit from lack of communication between the residents and the police are the criminals," Gross said.
Gross said eyewitnesses and victims are often afraid to talk to the police due to the possibility of violent retaliation from criminals, but officers are always ready to provide services such as constant surveillance of the victim or eyewitness' house in these cases.
"We have worked for decades to reduce the crime," Gross said. "But we still have work to be done."
Several Boston residents who attended the meeting expressed their concern for violence among Boston youth.
Charmaine Arthur, 49, of Dorchester, said to reduce violence in the community, Boston officials need to reduce the use of guns and address the issue of poverty.
"When young people get in trouble [and] get arrested, we need more diversion programs that can step and support them so they don't end up being locked up," Arthur said. "Kids don't only need financial, but also a mental support."
Kilra Hylton, 44, of Dorchester, said she thinks racial discrimination is the primary cause of violence in the city.
"I feel like the police should have a better relationship and be more involved in a community and they shouldn't think of every young black male as a gang member or somebody who is in trouble," Hylton said.
Adrian Major, 33, of Dorchester, said kids who want to attend after-school programs that prevent violence often face transportation obstacles.
"A kid who has nothing to do on Friday night often has to take … five buses to get to [the] YMCA or other community [centers]," Major said. "Instead he will choose to stay on the street and possibly get involved with the crime … enough is enough."