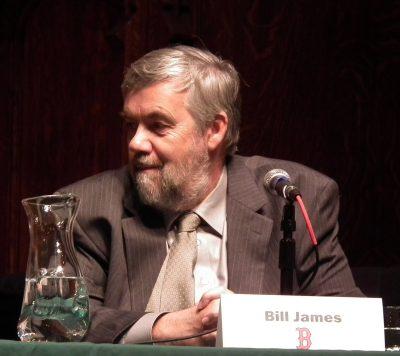 Across all disciplines of study, each field benefits from the influence of pioneers. Galileo Galilei, in addition to having an awesome name, made invaluable contributions to modern science. Socrates takes the title of "Father of Western Philosophy." George Washington Carver invented the peanut (sort of).
In my beloved game of baseball, few individuals have impacted the sport as immensely as writer and statistician Bill James. On Tuesday, I had the wonderful opportunity to meet Mr. James. I am still starstruck.
James spoke at the Boston University Law Auditorium as part of the College of Arts and Sciences' Silas Peirce Lecture series. His lecture, "The Arts and Sciences of Baseball," centered around his experience in the game and his reflections on a lifetime of research and study.
James touched on many topics, ranging from drunk baseball fans in bars to his intellectual creation, sabermetrics. His lecture offered fascinating insights into the brain of one of sport's greatest thinkers, and provided numerous valuable lessons for young sports fans, writers and students (such as yours truly).
To me, James' most compelling message came on the topic of approaching the study of any field. He argued that regardless of the topic, one should always "start with the question itself, not a position on the issue." For example, instead of debating why a particular player should win Most Valuable Player over another, we ought to focus on what "valuable" means in the first place. Pretty meta, if you ask me.
This unique form of thinking and questioning, James believes, helped set him apart in the baseball world. "I made baseball aware of the things that they did not know," he said.
Everywhere you look in Major League Baseball today, James' impacts can be felt. You probably could not find an MLB team in 2017 without an entire department devoted to sabermetrics. James created numerous new statistics that have revolutionized the way teams and scouts analyze talent, both on and off the field. The Boston Red Sox arguably would not have broken the Curse of the Bambino in 2004 without the contributions James made as a senior advisor of baseball operations. He's a big deal.
What's the method to James' madness? It's simple: he just really loves the game.
"I'm addicted to baseball," he said. "When I'm not studying baseball, I'm probably doing something else to do with baseball."
Is a love of baseball the only requirement for greatness? Well, not quite.
In addition to his deep passion for baseball, James just thinks differently than you and I do. James' inclination to push boundaries and question norms propelled him to the top of his field.  
In crafting sabermetrics, James hoped to "back off from what we know" and "move the discussion forward" in baseball. "I believe there's value in baseball questions not by looking at the players, but by looking at the facts," James said.
For a man whose impact on America's Favorite Pastime cannot be disputed, James displayed a refreshing humility, even self-deprecation, that most prominent figures often lack.
"I'm not that good at dealing with people, frankly," he joked.
I would beg to differ, sir.
Throughout his lecture, and his response to audience questions, James appeared friendly, affable and even funny. Before the event began, he greeted guests and thanked them for attending. When one young man asked about the possibility of a metric to evaluate managers, James quipped, "Some managers are really good at working with people. And some are Bobby Valentine." That one got a good laugh.
His other best joke, almost George Carlin-esque, referred to the civility of baseball, compared to other sports. In contrast to the high-flying contact of the NBA and NFL, baseball, James said, is very orderly.
All in all, I thoroughly enjoyed having the opportunity to learn from one of the most influential minds in baseball history. James' reflections on a lifetime of innovative thinking gave me a greater appreciation of the arts and sciences of the game of baseball.
And when I went to introduce myself afterward, he even told me that he would have voted for Mookie Betts over Mike Trout for MVP last season. How could you not love this guy?