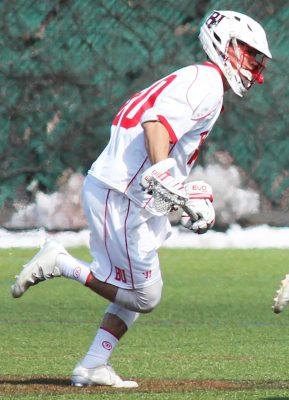 At the beginning of every Boston University men's lacrosse game, all eyes are on junior midfielder Joe Stucky at the center faceoff X. Though he is on the field for mere moments of the 60-minute game, he faces a difficult feat time after time. What makes the challenge all the more intimidating is the fact that he has stepped into the role previously filled by senior midfielder and faceoff specialist Sam Talkow, who has missed this season due to injury.  
While Stucky has taken the opening faceoff in all 11 games this year, things have not always been this way. Talkow, who has yet to take the field this season, was the reigning faceoff specialist for the Terriers over the past three seasons and ended last season third in the nation with a 0.695 success percentage.
The absence of any player in a key role on the team can be a cause for concern, yet the Potomac, Maryland native did not show panic before play began.
"I didn't think of it too much like that," Stucky said. "I was just excited, ready to play and be able to get out there [as well as] compete and help my team in the best way I could. So, I wasn't too worried about replacing Sam or stepping in and filling his shoes."
This calmness Stucky exudes comes as no surprise, as pressure is something faceoff specialists confront frequently on the field. It is actually what Stucky finds thrilling about the position.
"The mental game is very important," Stucky said. "… You got to not worry about what happened in the past and just focus on the next play, the next faceoff and be able to control your emotions and control what you can control. I think that's a big part about whether you're going to have a successful or not successful day at the X."
This mentality has not only been cultivated, but also solidified over the past two and a half years during his career.
Prior to this year, Stucky predominantly sat on the sidelines as Talkow and former midfielder and faceoff specialist Elliott Burr took to centerfield.
While hard work and training prepared Stucky to take on the role when needed, his call came a year earlier than expected. However, the training from Talkow and Burr ensured that Stucky would be well equipped for the transition.
"I think that's a big theme with our team, next guy up," Stucky said. "We have so much depth on this team so I thought that I was ready to go if they needed me."
BU head coach Ryan Polley noted that the distinct styles Talkow and Burr possess significantly helped Stucky evolve into his role.
"Both were two different styles where Sam was a finesse guy who uses his hands, his quickness to get the ball out and Elliot was a little bit of a grinder who's really strong," Polley said. "Joe having to go against both of those guys had to really learn how to go against two completely different styles, so I think [they] did a great job taking him under [their] wing and Sam continues to do that this year."
Only three games into this year's campaign, against the University of Hartford, Stucky demonstrated the ease of transition into his new role as he went over 50 percent (12-for-21) against Dylan Protesto, the nation's 10th leading faceoff specialist.
In matchups against the University of Massachusetts Lowell, Bucknell University and Lafayette College, Stucky has cemented his role as a reliable faceoff option.
"I think he's been great," Polley said. "I think he's been getting better every single game. He's a little bit different from Sam. He's certainly very scrappy and good on ground balls. He's definitely a battler so I think he relies a little bit more on his wings, but for someone who didn't have any experience going into the year, I think he's done a really good job."
The contest showcased his best performance yet, as he went 18-for-25 at the X and collected six ground balls in the 13-8 victory.
In his last three games, he has won 45-of-67 draws, rendering himself successful 67.2 percent of the time. He has also been strong on the ground ball battle and collected 26 over the same three games, which is almost half the amount he has picked up all season.
Polley highlighted Stucky's ability to foster scoring chances in transition, but also his contribution to the team away from the battle at the X.
"He's not the biggest guy on our team, but he works really hard in the weight room," Polley said. "He's really strong for his size. He's really fit and I think the guys look up to him for that and they want to see him do well. Everyone's cheering for him and want him to be successful."
With five games left in the regular season and four in the Patriot League, Stucky's role will remain as crucial as ever.
He looks at the rest of the season with anticipation though, as his role is key in winning possession for the second-highest scoring offense in the Patriot League.
"We've got a lot of great games coming up, so I'm looking forward to the challenge of the Patriot League that we have so far," Stucky said. "I think that we have a good shot at being able to put ourselves in the best position to make the Patriot League tournament this year."
As for Polley, he hopes to see Stucky continue to develop into a reliable player.
"We want him to get better as the season goes," Polley said. "We want him to be consistent. It's such an important position and it has such an impact on the game, being able to win faceoffs and control possession. … It's important that Joe, just like any other player on this team, gets better."