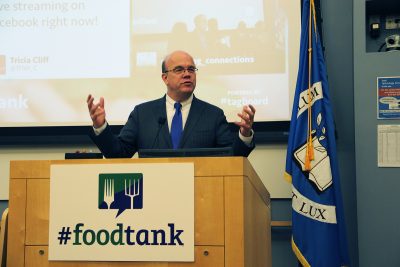 One in 10 people in Eastern Massachusetts are estimated to be food insecure, according to The Greater Boston Food Bank website.
This weekend, Food Tank, a nonprofit organization that works to alleviate hunger, obesity and poverty in environmentally friendly ways, hosted a summit in hopes of inspiring change in local communities. Food Tank intended to open the public's eyes to the imbalances in the current food system — while some people eat too much, others are not getting enough.
The summit was a two-day event. The first day consisted of panels and discussions amongst a variety of food industries, and the second consisted of a tour of Food + Future, a company whose mission is to educate and make nutritional foods easily accessible to as many people as possible.
Danielle Nierenberg, co-founder and president of Food Tank, decided to host one of four summits in Boston because she said she believes students and professors can inspire change in their institutions.
"Boston is really at the epicenter of science, innovation, education and entrepreneurship in many different ways," she said in her opening remarks. "Science is being attacked on a lot of different levels right now and academics are on the front line of that battle. And for millions of farmers and eaters around the globe, climate change is not a myth or an alternative fact, it is a reality they face everyday. We need to invest more in professors, teachers and students so that they can make those discoveries."
The panel, held at Tufts University, showcased industry leaders across a variety of disciplines, including nonprofit workers, entrepreneurs, supermarket chain executives, senators, college professors, restaurateur owners and people who have struggled with food security in their own lives.
Nierenberg said she wanted to ensure that people who have actually lived without access to nutritional foods are also able to share their experiences.
The topics ranged from food access and affordability, agriculture innovations, misinformation about food, and industry actions.
"An important issue we wanted to address is that we are becoming more dense about nutrition because we're overloaded with information about different foods and food sources," Nierenberg said. "So we brought in experts in the field, dieticians and nutritionists to really hammer out what the best choices are for consumers."
Another discussion brought together farmers and business leaders on the idea of farming in a more sustainable manner and understanding that past practices have focused on quantity of food and calories over quality of food and nutrient density.
Alexis Siriani, 43, of Philadelphia, said she appreciated the collaborative efforts of otherwise disparate industries.
"It was great to conspire with other people from different disciplines," Siriani said. "I find that a lot of disciplines work in silos and just have very discipline-specific mentalities and by collaborating with multiple disciplines, ideas germinated and spread at a faster rate than bureaucracy or politics could ever hope for."
The conference attracted a wide scope of people. Attendees of all ages and backgrounds were interested in learning about spreading access of nutritional foods in a sustainable manner. In fact, many shared Siriani's motivation for attending.
"Aside from professional development, I like to learn as much as I can about what it is I'm choosing to spend my money on for my well-being as well as for my family's well-being," Siriani said. "And it is important that people are healthy and able to be active members of society instead of worrying about their illnesses."
Food + Future also has an education startup, Poly, which strives to spark conversations in public schools across the United States about the future of agriculture and sustainability. One of their most interesting startup projects is called "Illuminate." This is a venture attempting to demystify food by enabling consumers to fingerprint individual food products.
Hilary Cunningham, the design research lead for Food + Future, explained the complex processes that allow this technology to decode food products for consumers.
"It combines three technologies: spectroscopy, analytical chemistry and deep machine learning to build a data set that helps us understand the true chemical makeup of our food, map that to a device that a consumer can use to scan that food, and then tell them if they're getting what they paid for," Cunningham said.
Food + Future will continue to expand its innovative projects grounded by a mission that resonates with that of Food Tank's, Cunningham said.
"We didn't start this project thinking we had the answers," Cunningham said. "We realized there were a lot of different players working in different areas and silos and our hypothesis is if we can bring all these people together, we can tackle the big picture issues that we can't tackle alone such as food security, and not just accessing food, but accessing food that enables you to thrive."
Amazed at what Food + Future had begun, Siriani shared her optimism for the future.
"Often, when I'm working by myself, I feel isolated and encounter roadblocks that makes change seem three generations away," Siriani said. "But when I see what other people have started, and what we can accomplish as a unit, I realize that, oh my gosh, there is a hope and change is possible."