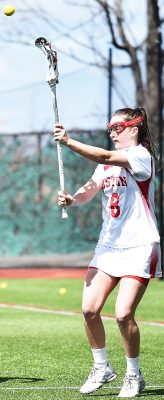 The Boston University women's lacrosse team wanted this win — badly.
The Terriers (5-6, 3-2 Patriot League), who dropped a narrow 13-12 contest to Lehigh University last weekend, did not want to repeat that occurrence against Lafayette College on Saturday afternoon.
Behind career days from junior attack Avery Donahoe and senior goaltender Caroline Meegan, BU held off the Leopards (9-4, 4-1 Patriot League) in a 20-16 shootout at Nickerson Field.
Donahoe finished the contest registering a career-high in goals (6) and a game-high seven points, while Meegan stopped a career-best 18 shots.
Unlike the start to their Lehigh (9-3, 4-1 Patriot League) game, which saw the Mountain Hawks strike first, the Terriers came out against the Leopards hungry for goals.
Just one minute in, Donahoe slotted a shot by Lafayette goalie Anna Raymond, and it did not end there.
Freshman attack Kailey Conry, sophomore midfielder Kelly Mathews and sophomore defender Tonianne Magnelli each responded with goals of their own to give BU the quick 4-0 lead just over five minutes in.
"I think [that opening 4-0 run] was huge," Terriers head coach Liz Robertshaw said. "We talked about coming out sharp and coming out aggressive. We've had a really challenging week of practice where [the coaches] have been pretty hard on [the players] and we've asked them kind of to fight through, and we wanted to see if they could respond to that and they did that well today starting off fast and then finishing."
The Leopards broke the Terriers' 4-0 run courtesy of sophomore Jane Kirby, whose free-position strike past Meegan trimmed the deficit to 4-1 at the 22:41 mark.
Kirby's goal kicked off a 7-2 run for Lafayette, with her strike at the 11:42 mark giving the Leopards their first lead of the game at 7-6.
Unfortunately for the road side, that was the last time it led against BU.
Donahoe scored to begin a 6-2 BU run to close out the first half, as strikes from Conry, Magnelli, senior Elisabeth Jayne and junior Mickenzie Larivee gave the home side the 12-9 advantage.
Much like the first half, the second half featured a variety of back-and-forth scoring runs by both sides.
Tallies from Mathews and Kaitlin Belval right in the beginning of the second half helped re-establish BU's biggest lead so far at 14-9.
Lafayette quickly responded, as it crawled back to 14-12 behind two goals from Kirby and a tally from sophomore Emma Novick at the 23:09 mark.
A 4-1 run by BU helped get the lead back to its biggest at 18-13, but that didn't exclude any last-minute drama from the Leopards.
Lafayette star Kirsten Wilhelmsen (team-leading 51 goals, 71 points) got her hat trick at the 13:40 mark, only to be followed by goals from Mairead Janzer and Kirby to trim the Terriers lead to 18-16 with just 4:28 left.
While this three-goal run by the Leopards seemed like an early sign of another BU collapse down the stretch of a hotly contested matchup, the Terriers took a lasting hold of the lead.
A quick, game-sealing pair of tallies from Donahoe helped debunk any repeat of that Lehigh affair. The Terriers, courtesy of eight different goal scorers against Lafayette, reached the 20-goal mark for the first time since their 21-12 rout of Binghamton University on April 13, 2013.
"I think [having that offensive depth] is awesome," Robertshaw added. "We knew coming into this year we had big shoes to fill with those graduates and we've challenged all of [the players] to step up … Not just Elisabeth, not just Taylor [Hardison], but Avery and Kailey and Mickenzie are responding now, which is good."
With the season quickly winding down, Robertshaw emphasized to her players that from now until their regular season finale against American University on April 29, every contest will determine their postseason faith.
"Every single game matters," Robertshaw added. "One, we're fighting to get into the [Patriot League] Tournament and two, we have to fight for rankings. After this last loss to Lehigh, every single game was going to determine the seeds and we want to make sure we get into that tournament."