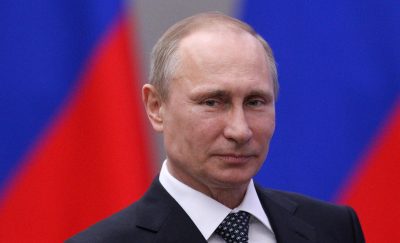 It's no secret that a sports arena can be just as politically charged as Capitol Hill.
Sports aren't as secular as we would like to think. Politics always seems to find its way through the stadium gates, with players like Colin Kaepernick kneeling during the national anthem or Tim Tebow kneeling in godly praise (or hitting home runs on Palm Sunday). We see it in the way mass amounts of fans are so easily influenced by their favorite players, coaches and teams. We see it in the riots at games and celebrations in the streets. And we especially see it when teams like Russia and the United States compete.
Regardless of political alliance, it's no secret that the relationship between newly elected President Donald Trump and Russian President Vladimir Putin has recently been called into the spotlight. It seems as if no one can escape the surge of citizen activity caused by this election from both parties, and with recent attention on Syria, it seems only natural that the two countries meet — in the middle of a soccer field.
The U.S. women's national soccer team partook in what was called a "friendly" competition against their Russian counterparts. Although the U.S. team came out on top (which came as no surprise, considering their dominance in the world of women's soccer), many were left scratching their heads at the interaction, as sports competitions between the two in the past would definitely not be considered friendly.
For those who haven't seen the movie "Miracle" or learned about the Cold War in their history classes, the 60's, 70's and 80's were rough decades for the Soviets and Americans. Between nuclear negotiations, a presidential assassination and the invasion of Afghanistan, by the time the 1980 Winter Olympics rolled around, the long-anticipated Soviet Union/USA hockey match meant much more than an Olympic medal.
The U.S.S.R. had beaten the U.S. team 10-3 at a match in Madison Square Garden just a few weeks earlier, which was a heavy blow to the U.S. team because of the political turmoil the country had been wrapped up in. When this win came around, it symbolized many things for the American people — the defeat of communism, the superiority of the United States over the U.S.S.R. and the persistence of the American people's pursuit of freedom. It was a hockey game, yes, and a great one at that, but it was so historic that it is often referenced in conversations about the Cold War and hockey.
This Olympic tension can even carry over into the present-day Olympic games. It's no secret that the U.S. women's Olympic gymnastics team has been able to stay ahead of Russia and China most of the years, and tensions are always high amongst the three top competitors for a number of reasons. It's hard to ignore the juxtaposition of beating China, our top economic competitor, and Russia, a consistent national security threat, in a series of games meant to bring unity on the international forefront.
That's why this soccer game may also have bigger implications than originally thought at first glance.
With consistent media attention placed on our relationship with Russia since the "Miracle on Ice" at the 1980 Olympics, perhaps this friendly soccer gesture may mean there is still hope for this international dilemma yet.
While I certainly cannot speak on behalf of this country, I do think many American citizens are worried by Putin and Russia, especially after our president's most recent decision to launch an airstrike against Syria. In a climate so politically charged as the current one, maybe some athletes kicking around a ball is exactly what the United States and Russia need right now.