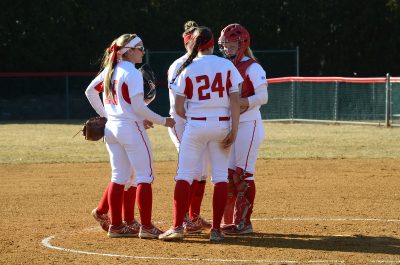 For Boston University softball freshman pitcher Kali Magane and BU head coach Ashley Waters, Magane's freshman status is virtually meaningless. After key losses in Melanie Russell and Lauren Hynes, Waters was looking for someone to step up in the circle as the ace of the pitching staff and Magane has handled that responsibility admirably, but to no surprise of her coach.
"The game doesn't know what age your are," Waters said. "There's nothing on your back standing in centerfield or second base that says 'freshman.' I do expect my freshmen to walk in and be competitive and take spots and take positions. With Kali, we knew the position we were in, we lost two seniors, and anyone who's coming in here putting on the Boston University jersey should be ready to go."
Magane certainly was ready to go, as the Wrentham native has taken over as the Terriers' clear-cut No. 1 starter. After leading King Philip Regional High School to the 2016 Massachusetts State Championship, Magane had to adjust quickly to the next level.
The five-foot-four freshman is not an imposing physical presence, but she makes up for it with her discipline, poise and tenacity. In fact, in her college debut, Magane hurled a complete game shutout for a 1-0 victory over North Florida at the FAU Kick-Off Classic, allowing just four baserunners.
"Coming into college was definitely different than high school and summer ball," Magane said. "Getting that first win for myself gave me some confidence that I could do this."
Waters foresaw Magane's potential during the recruiting process at local tournaments, watching her pitch often. She's not surprised Magane has been successful.
"It was great to get to see her compete at all different levels facing many teams," Waters said. "I knew with her coming in that she'd be able to hold her own and get us some W's. With her on and [senior pitcher] Makinna [Akers] on, that would shut down the weekends and help us to take [several] conference series."
Akers and fellow freshman Lizzie Annerino are two other pitchers with the most appearances on the field, but Magane leads the team in wins, innings pitched, complete games, shutouts, strikeouts and opponents' batting average.
"I don't think too much about who's pitching first because in softball you can be on one day and off the next," Magane said. "It's always good to have the three of us to be ready and obviously do well when I can, too."
Magane tops out in the low 60's and focuses on her screw and curveballs.
"I call her the mosquito, because she's tiny," Waters said. "For someone that little I think the entire world has told her she's not going to play Division I, she can't do this. Whoever she is, we embrace it, we love it and we let her do her thing and I feel like she's thriving under that."
It hasn't been a smooth road to the top of the pitching staff, as Magane was lit up for nine earned runs twice in a row in games against Patriot League foe Lehigh University. However, the rookie said that those games have helped her and her team refocus and improve.
"The Lehigh games were pretty tough, I definitely struggled personally and as a team I don't think we were exactly where we wanted to be," Magane said. "After that, we kind of realized that we had to turn it around for the rest of the season and we all just dialed it in a bit more throughout the week and really came together as a team."
Command has been a persistent issue for Magane, as she has surrendered 43 walks in 103.1 innings. Nevertheless, Waters expects certain hiccups from the freshman and says it is all a part of the development process. Magane has looked dominant at times, while vulnerable during others. Waters hopes to see her young ace find consistency as the team prepares for the last stretch to conclude Patriot League play.
"That's the case of learning — she's figuring it out," Waters said. "In years to come, her stats are going to get better and better, and right now she's trying to figure it out. There's good days and bad days, then there's great days. We have to stand by her during all three of those."
With Magane having three more years as the team's ace, the Terriers pitching staff looks much more stable than it did just a few months ago. While the freshman has brought a new energy to the team, she has also learned from the upperclassmen. Thanks to the support of her teammates, Magane's growth has accelerated.
"The one thing about Kali that helps is that she has Makinna Akers in her back pocket," Waters said. "They try to help each other out of some jams and they're not going to be great every single day, but they're both going to work hard. With Kali, what she's showing this year is, regardless of wins and losses, she has a bright future and a lot of potential. I'm excited that we have her and I'm thrilled she chose Boston University and I think it's a really great fit for all of us."
With six Patriot League games remaining, the Terriers reside in third place in the seven-team league, and are in position to jockey for a higher seed come conference tournament time.
The Terriers (14-21, 6-3 Patriot League) had suffered an eight-game losing streak earlier in the season but have responded with an improvement in all aspects, led by Magane's recent dominance. The reigning Patriot League champs are looking to repeat, and Magane understands her success will be pivotal to a deep playoff run, not only in the Patriot League but in NCAA regionals as well.
Following a 11-1 victory over United States Military Academy on Sunday, Magane said, "we still have half the season left, so there's quite a bit of work to do but it definitely helps to get wins as I start to gain confidence for myself and the team."