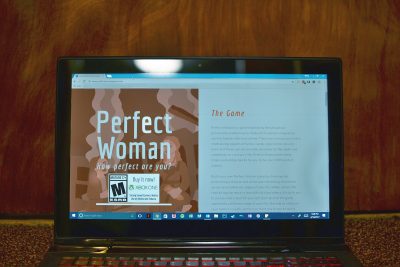 While video games can function as both entertainment and a mindless pastime, an interactive exhibition of computer games at Goethe-Institut Boston called "Games and Politics" suggests there is a political aspect involved.
The Goethe-Institut, an institute that promotes German culture worldwide and promotes cultural exchange, is seeking to change the perspective on video games with this digital game exhibition. The traveling exhibit, made in cooperation with the Center for Art and Media Karlsruhe in Germany, is stopping at the Massachusetts Institute of Technology until Friday, after visiting Mexico and Korea. It will continue on to 19 other countries, including Palestine and Brazil.
"Games and Politics" highlights 16 video games that were made within the past 12 years, all of which comment on a variety of political topics, including labor conditions, gender issues and refugee conflicts, among others.
"We want to look at games as an art form and to prevent a very diverse view of them," said Annette Klein, program curator at the Goethe-Institut. "We're exploring the question, 'Is every game political?' and looking at that question from different points of view. There are different political aspects of these games such as taking the viewpoint of a drone or exploring women and transgender issues."
Klein continued to explain how they are looking to draw attention to the "relation between games and what they mean for our society," she said.
The Goethe-Institut will be collaborating with the Boston Cyberarts Gallery, which is part of larger arts nonprofit Boston Cyberarts Inc., to display the games, which will open this Friday.
This is a new approach because few museums have digital game collections and it's unusual to display games in a gallery setting, Klein said.
The goal is to present these games as works of art. The Goethe-Institut is also interested in creating more awareness about the digital artists involved in producing the games, Klein said.
These evenings at the Boston Cyberarts Gallery are dedicated for visitors to play the games, with a 20-minute introductory film about the exhibition, and then a series of mini-documentaries about the games. In addition to this, the Goethe-Institut is hosting talks by experts, including game designer Lea Schönfelde, Dartmouth College digital humanities professor Mary Flanagan and artist Ben Houge, who specializes in digital art, video games and more. These speakers discuss the intersections between games and politics.
"Video games are immersive and allow you to make interactions and decisions," Klein said. "They put you in situations you'd never get into otherwise … It can give people an experience without going through the tragedy. These experiences can be emotional, cultural and artistic."
George Fifield, founder and director of Boston Cyberarts Inc., said some of the games on display were made for social commentary, while others were not. He said that he wants people to think about the reflection that entertainment makes on society.
"Today, video games are the largest popular art form in the world," Fifield said. "Something that has that much sway over the hearts and minds of people needs to be examined. A famous game designer one said, 'Video games are the only art form that can make you feel embarrassed,' because you empathize with the character you're playing."
While not all individuals may agree with this sentiment, Fifield continued to assert that this medium has a great impact on emotions, and should be seen as much more than a mindless game.
"When you use that empathy and put your character in a political experience," Fifield said, "it's a lot more powerful than reading about that experience."
Yuta Takano, a sophomore who is studying computer science in Boston University's College of Arts and Sciences, said he believes that video games can be an effective learning tool.
"Since video games are meant to be fun, adding a learning component is easy; there's a reason why platforms like Leapfrog are so successful," Takano said. "There are many simulation games that allow games to walk through historical events such as wars and battles, and with an increase in virtual reality technology, that field of gaming has the potential to create more immersive and impactful games related to politics or otherwise."