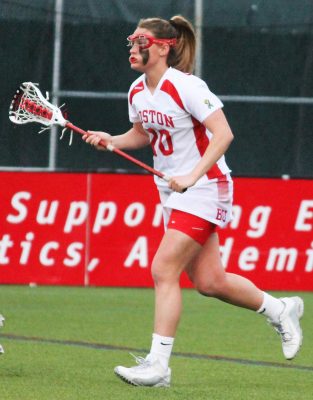 The Boston University women's lacrosse team won a thriller against the College of the Holy Cross, beating their opponent 10-9 and capturing the Turnpike Trophy.
The beginning of the game didn't appear promising for the Terriers (6-7, 4-3 Patriot League) as Holy Cross (6-9, 1-6 Patriot League) took an early 6-2 lead and managed to stay ahead for the entire first half. However, BU countered quickly by scoring five unanswered goals of its own, a scoring streak that started in the first half and continued into the second.
BU head coach Liz Robertshaw has emphasized the importance of responding to adversity all season long, and she believes she saw it Wednesday night.
"I like the resilience," Robertshaw said. "The fact that we were not playing particularly well to start the game — we were frantic — we let Holy Cross dictate the tempo and kind of take it to us. But then we fought back. I think that was something I was really proud of the team for, and they found a way to win."
The Terriers' first two goals came seven minutes into the first half and were scored within a minute of each other by freshman attacker Kailey Conry. It would be another 18 minutes until they scored their third goal thanks to junior attacker Mickenzie Larivee.
After their impressive scoring stretch, the Terriers' slim lead vanished quickly as Crusaders attacker Keely Connors tied the game at 7-7 with 15 minutes remaining in the contest. The Crusaders then went on to take a 9-8 lead with only 7:53 on the game clock left thanks to an unassisted goal by freshman Emma Gill.
The Terriers, showing their unmatched resiliency, charged back with two unanswered goals to win the game. The first from sophomore midfielder Kelly Mathews, and then the game winner from Larivee, who completed a hat trick for the day.
While Robertshaw wasn't entirely pleased with their offensive performance, she lauded her team's ability to persevere.
"It wasn't our best performance, but we found some looks that we really liked," Robertshaw said. "There were some great goals by Mickenzie Larivee, Kelly Mathews, Kailey Conry, and I just felt like they stuck it out and found a way to win."
On the defensive side, the Terriers played spectacularly, holding their opponent to single-digit goals. This marked the fifth time the Terriers allowed less than 10 goals, which has been a recipe for success this far. Amongst many reasons for the strong effort, Robertshaw noted her senior goalie Caroline Meegan's excellent performance.
"I think defensively we had some big stops," said Robertshaw. "After the first few goals went in, we did see a change in Caroline Meegan, she made some spectacular plays and finished the day with 12 saves."
The defensive effort was a job well done by the Terriers, who won 26 ground balls compared to 14 for the Crusaders.
"[Junior defender] Maddy Curley went in for us … and caused five turnovers. Plays like that are huge," Robertshaw said. "We also had some great ground ball work on the defensive end as well."
As far as playoff implications are concerned, the victory couldn't have been more timely.
The Terriers victory gives them a winning percentage above .500 in Patriot League play. They'll have a chance to expand on that in their final three games of the season, two of which are against Patriot League teams.
"We knew we needed a win to get into the conference tournament and they found a way to do it even when things weren't going our way," Robertshaw said.