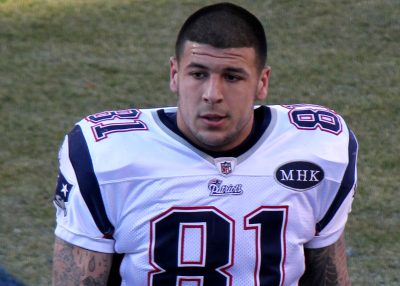 Who was Aaron Hernandez? It seems like a simple question, but there isn't really a simple answer.
Some got to know Hernandez as Connecticut's Gatorade High School Football Player of the Year from Bristol. Others got to know him for catching touchdown passes from Tim Tebow at the University of Florida. Some got to know him as the do-it-all man as tight end for the New England Patriots.
Ultimately, the rest of the public got to know him during his arrest, trial and conviction for murdering Odin Lloyd, the boyfriend of Shaneah Jenkins, who's the sister of Hernandez's fiancé.
What is clear now is that Hernandez led a double life. While it is disappointing to see the wasted talent and potential of his career in football, it is truly saddening for the victims of Hernandez's destructive life. Those closest to Hernandez were left time and time again to pick up the pieces of his own actions, including his four-year-old daughter. A further saddening point is the overriding narrative of so many other young people like Hernandez; a tragedy that leads them down the wrong path, decision after decision.
The tragedy for Hernandez began when his father, Dennis, died at 49 unexpectedly after complications during a routine hernia surgery. Aaron was 16 years old and that moment changed his life forever. He spoke about his father's death while in college saying, "It was more like a shock. Everyone was close to my father, but I was the closest." He also said, "I was with him more than my friends. When that happened, who do I talk to, who do I hang with? It was tough."
Who he decided to hang with were friends from Bristol: Carlos Ortiz and Ernest Wallace. These childhood friends were by the side of the emotionally broken Hernandez after his father's death and were by his side until the night he shot and killed Odin Lloyd.
The death of his father proved a turning point in Hernandez's life. Hanging out with the wrong crowd and poor judgement just led him further down the destructive path he walked.
Hernandez had every opportunity to escape that draw down the wrong path. He chose the University of Florida over University of Connecticut, briefly getting away from those negative influences from his Connecticut childhood.
His head coach Urban Meyer met with him every morning at 7:30 in Meyer's office for Bible study and even assigned Tebow as his "life instructor." The Patriots organization supported Hernandez and his attempts to cut ties with his childhood friends, but no matter the amount of support these pillars of leadership and guidance provided, Hernandez continued to falter. He began using drugs and became paranoid in the year leading up to the night most now know him for: the night he murdered Lloyd.
The story continued to grow cloudy past his conviction and life sentence of imprisonment and only became more nebulous. A double-murder trial ensued for the murders of Daniel de Abreu and Safiro Furtado, who were shot to death in their car as they wait at a red light in Boston's South End. The jury found Hernandez not guilty of this double murder on April 14.
Five days later, Hernandez committed suicide in his cell at the Souza-Baranowski Correctional Center, with John 3:16 written on his forehead, the cell door barricaded and notes left with his Bible.
In the aftermath, countless reports about Hernandez are being released, from his personal life to theorizing about his suicide as well as the murder of Odin Lloyd. We can not fully piece together all of what has transpired in a matter of days and it is too easy to speak on the situation unequivocal with your own subjective viewpoint.
In a story as weighty and complex as this one, it is difficult to speak clearly about Hernandez's troubled life. Maybe in time, we can look back and understand more about this saga — one as perplexing as any in sports.
With more questions than we have answers, we will likely never know of the inner demons that consumed Hernandez. He has been called a lot of things and whoever you thought Hernandez was, it seems that most truly didn't know him at all.