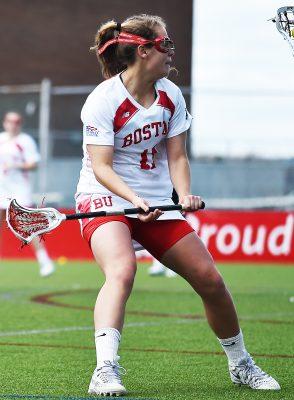 In a game the Boston University women's lacrosse team could not afford to lose, senior attacker Taylor Hardison made it her mission to keep her team's recent success alive.
Hardison's game-winning goal with 2:06 remaining in regulation proved to be the difference maker in BU's 12-11 comeback victory against the United States Military Academy Saturday afternoon at Michie Stadium.
The Darien, Connecticut native's game-deciding tally gave the Terriers (7-7, 5-3 Patriot League) their first multi-game winning streak since mid-March when they triumphed over Fairfield University and Bucknell University, respectively.
Since their postseason clinching victory over the College of the Holy Cross last Wednesday, BU head coach Liz Robertshaw has stressed that her team needs good results to build its confidence heading into postseason play.
With the way it rebounded on the road against a league opponent in the Black Knights (5-11, 1-7 Patriot League), Robertshaw left West Point impressed with her squad's resilience.
"I'm really proud of [my team] for coming back and doing it on the road which is something that we've had to work through this whole year," Robertshaw said. "We've done pretty well at home and have had to battle on the road, so I'm really proud of the fact that they found a way to win and that they got it done."
Robertshaw's team has had many difficult road matchups this season, and right from the opening draw, this was shaping up to be a back-and-forth duel.
Just 49 seconds into play, freshman midfielder Rilee Scott took a pass from teammate Emma Roerty and slotted it past BU senior goalie Caroline Meegan to give her side the early 1-0 advantage.
Scott's strike marked the third consecutive game in which the Terriers' opponents scored first, automatically putting them in the uncomfortable position of playing catchup.
"[My team] didn't really come out and play our game from the start," Robertshaw added. "We were a little sluggish on the draw controls. We saw that was a soft spot in the stats, and I thought we could've been a little bit more detail-oriented in the way we played our defense as well as on attack."
Rachel Hornick's strike at the 25:25 mark widened the Black Knights lead to 2-0, but that is when the Terriers answered back.
Junior attacker Mickenzie Larivee scored the first of her game-high four goals over Army goalie Maddie Burns off an assist from freshman Kailey Conry at the 23:04 mark.
Junior attacker Avery Donahoe knotted the game at 2-2 three minutes later, and freshman midfielder Maggie Lohrer notched her first career BU goal off an assist from sophomore defender Tonianne Magnelli at the 15:42 mark to give her team a 3-2 lead.
Both teams then responded with two-goal swings of their own as Donahoe's tally with 8:39 left in the half helped BU regain the lead at 5-4.
Army midfielder Kiersten Spencer tied the game with 4:59 remaining, but Larivee scored her second goal of the game 36 seconds later to give BU the 6-5 lead going into halftime.
Early second-half strikes from Larivee and Hardison gave the Terriers their biggest lead of the afternoon at 8-5, only for the Black Knights to respond with the game's biggest scoring run.
Hornick's strike at the 24:24 mark began a 4-0 Army run, and her goal at 22:52 gave her team the 9-8 advantage.
Back-and-forth tallies by both teams led to strikes from Conry and Larivee to help BU regain the lead at 11-10 with 12:49 remaining in the game.
Larivee's strike was the start of an 8:47 scoring drought for both sides, before Black Knights midfielder Samantha Stewart's tally at the 4:02 mark helped knot the game at 11-11.
BU then dominated possession for the next two minutes, before Hardison took a pass from Donahoe and slotted it by Burns in what turned out to be the game winner.
The Terriers look to get above .500 when they travel to the University of New Hampshire on Wednesday. With just two games remaining, they want to roll into postseason play with the utmost swagger and confidence.
"We didn't necessarily play our cleanest game or the perfect game, but we found a way to win [against Army] and I think that's important as you finish your regular season and head toward the postseason," Robertshaw said. "Sometimes, you just gotta find a way to get more goals than your opponents, and we did that which was great."