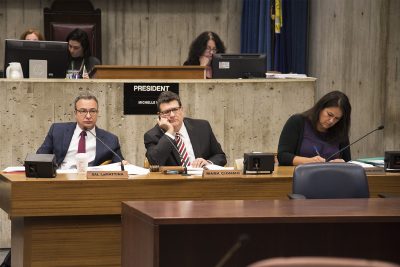 The Boston City Council Committee on Ways and Means held an Administration and Finance Overview hearing to discuss the proposed budget for the 2018 Fiscal Year on Monday.
Sponsored by Mayor Martin Walsh and conducted by Committee Chair Mark Ciommo, the meeting was one of many discussions on the appropriation of funds toward education, infrastructure and the city's growth, according to the official docket.
Chief Financial Officer David Sweeney and Budget Director Katie Hammer formally presented the mayor's FY18 Operating Budget and FY18-FY22 Capital Plan.
"We are extremely proud to be here, presenting a thoughtful plan that increases operating investment in high priority areas such as schools, public safety, transportation and for other purposes to improve the quality of life in the city," Sweeney said.
Sweeney said the proposal allocates $144 million toward projects such as construction, parks and roads work and education, with a focus on charter schools.
"The FY18 recommended budget balances sustainability, increased investment and fiscal responsibility," Sweeney said.
Sweeney said Walsh has filed education reform legislation, which would increase annual funding toward education by $35 million in its first year of implementation.
Hammer said the investments will address social issues in the city and eliminate excessive costs.
"Our investments in education will help close achievement and opportunity gaps," Hammer said. "[The budget recommends] reducing overtime hours, eliminating vacant positions and working with departments to avoid other cost saving measures."
In addition, Hammer said the Imagine Boston 2030 plan outlines investments in streetlights, bridges and sidewalks to improve safety for pedestrians.
"We are preserving and expanding our efforts to our most vulnerable residents," Hammer said.
The committee also announced the launch of its new website, which includes an interactive map allowing residents to see projects in their own neighborhoods.
After the presentation, city councilors questioned the committee about the budget plan.
Ciommo applauded the prioritization of capital investment and fiscal soundness in the budget.
"The best we can do is pass on sustainable budgets that fund our priorities, adhere to our values … [and] pass on fiscally sounds budgets to our young people," Ciommo said.
City Council President Michelle Wu thanked the budget team for their work and asked questions on the specifics of the art program.
Hammer said the budget team will be collaborating with other government departments to carry out public art projects.
"We are dedicating one percent [of the budget] to the public art," Hammer responded. "We've been working closely with departments to determine the best way to implement these art projects across the city."
City Councilor Matt O'Malley praised the proposal's focus on environmental stability. The budget includes an expected $6 million in savings through the implementation of energy efficient streetlights, according to Sweeney.
"That is remarkable," O'Malley said. "Every fiscal conservative ought to be an environmentalist and this is an example."
Yvonne Williams, 71, of Hyde Park, who attended the meeting because her son is running for city council, said she enjoyed the meeting because it was informative.
"I've always been … active in the community, so this is just an extension of that," Williams said. "It's important to monitor these meetings."
Williams said she is still forming an opinion on the budget proposal, but finds the charter school suggestions alarming.
"What surprises me is that so much money is going to charter schools when it's been voted down," Williams said. "It's interesting to me because I am spending so much money and I'm not getting reimbursed and that's how it hurts other parts of the system."