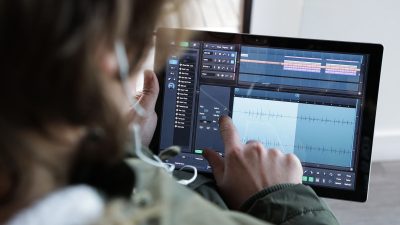 Startup culture has boomed worldwide and at the head of these companies are CEOs inspired from dorm rooms, dining halls and coffee shops.
The Greenhorn Summit, hosted by The Capital Network, an organization that assists with fundraising for startups, was held on Saturday as a one-day conference for students interested in starting their own companies or those who want to get more involved in the Boston startup community.
One of the opening events was an "Under 30 Young Entrepreneurs Panel" that showcased Rebecca Liebman, co-founder and CEO of LearnLux; Wake Anderson, founder and CEO of SoundBridge and Diana Yuan, COO and co-founder of indico data solutions. All panelists were a few years out of college and spoke to students about the experiences, challenges and triumphs they've faced in their careers.
Anderson is a Northeastern University alum and the founder of SoundBridge, an audio technology company that has created a music production suite for professional musicians. He said he believes that market research and building a strong team are among the most important things to consider as a young entrepreneur.
"Do your market research before jumping into creating a product and make sure you can identify a solid need for your product in the market," he said. "Make sure you are recruiting people with analytical and creative faculty."
He added that teams must contribute in a creative manner to marketing strategies in order for success.
"You also need a team with analytical faculty who are able to adapt on the job and have the motivation to learn things you don't know," he added.
Liebman, a Clark University alum, said her company, LearnLux, helps manage student loans, provides guidelines for making initial investments and helps clients build their credit. She described the company's reach as "all the things you have to do but nobody teaches you."
She said starting a company while in college is beneficial, and her age has been an advantage while trying to navigate the world of startups.
"College is similar to working in a lab," Liebman said at the panel. "You're able to make so many experiments without dealing with a huge risk and that's why starting a company in college is ideal. Being a young person in [financial technology] has been helpful because it allowed me to see that the financial industry has been made for one type of person for so long."
She noted her young age added to her experiences and perspective when approaching issues.
"I was able to see what the challenges were and what opportunities were available to create new products in the industry," she said.
Yuan, a Babson College alum, said she grew up in a household where she was encouraged to be her own boss, especially since her father is an entrepreneur.
She gained some of her first experiences with startups through a program she participated in at Babson, Yuan said. That experience helped her to learn about group dynamics and how to effectively communicate with people, two skills that are important for business starters at any stage, she said.
"As a student, you have such an advantage in terms of reaching out to anyone … through Babson, I was able to meet people at Techstars that helped with my company," she said during the panel. "My school also had many market research databases and it's also important to take advantage of the huge alumni networks that you have."
The young entrepreneurs all mentioned the risk associated with creating your own startup. One of those risks included failure. Although startups can be a risky venture, they assured the audience that the skills they learn while working on their own startups can be transferable to other jobs.
"Companies are always hiring so even if your startup doesn't work as long as you have skills that can be transferable then anyone will hire you … It's not that risky to say, 'I'll do this for awhile and if it doesn't work I'll find a job,'" Liebman said.
Anderson talked about this idea when reflecting on the success that comes with startup failures.
"The strength you found internally to start your own company will make you an incredible hire for any other company even if you do fail," Anderson said.