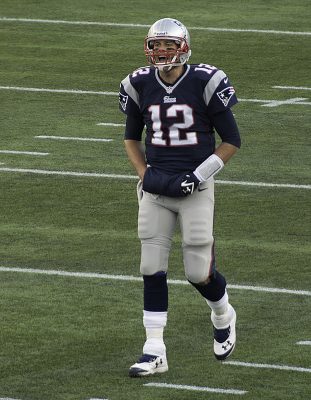 Amidst a Bruins elimination and wobbly playoff start for the Celtics, Boston fans only have two things to be ecstatic about in the sports world currently: 1) The amazing pitching from brand new Red Sox pitcher Chris Sale and 2) The release of the 2017 New England Patriots schedule.
While the latter may not seem like a big deal to most, it certainly is a big deal for Boston fans. It's no secret that Tom Brady reigns as a god for most in Beantown, so any Patriots-related information (even in the offseason) will register as headline news. That being said, this season will definitely be one to look forward to, starting with Week 1.
The Patriots will be opening up the season right here in New England against the Kansas City Chiefs. There is not a ton of star power on this Chiefs team, but they continue to compete in a tough AFC, and I can see this being a fun game for the Patriots to open up with at Gillette Stadium. It is pretty much a guaranteed win to start the season off, but there will still be a lot of good play throughout the game to keep it spicy (instead of, let's say, a home opener against the New York Jets — just because it is a guaranteed win does not mean it is a game you want to watch).
The game that I, personally, think every NFL fan should be most looking forward to this season is the Pats' Week 7 matchup against Super Bowl runner-up Atlanta Falcons.
Not only will this be the first time these two teams meet after the tremendous Super Bowl comeback (or horrific, if you are from Atlanta), but it is also going to be a great matchup.
Matt Ryan looked unstoppable last year, and between Jets and Miami Dolphins games, this is going to be definitely one of the tougher games of the season for the Pats. At the end of the day, both of these teams made it to the Super Bowl last year, so you are bound to see some great strategy from Bill Belichick and Dan Quinn.
Also, it is important to note that I have nothing against Matt Ryan — in fact, as a Boston College boy, I like him, but seeing these two jerseys on the field will only bring up good memories for us New Englanders as we replay Tom Brady's GOAT performance from Super Bowl LI in our minds over and over again, especially after Week 6. The Pats versus the Jets — have I mentioned that I do not like them yet?
After a nice bye week at Week 9, the Patriots will be pleasantly recharged and happy only to travel into the God-forsaken land of Denver's Sports Authority Field at Mile High to face off against the Broncos, yet again. But this is not a game I am worried about. With Denver's crumbling offensive line and a starting quarterback battle, the only annoying part of this game is going to be how the high altitude effects the New Englanders. What's worse than this week, however, comes Week 11: the Oakland Raiders.
Mexico City — really? The one game of the season (besides Atlanta) that everyone is looking forward to and you decide to make it in Mexico City? I feel the same about this game as I do about the NFL's London trips: Stop trying to make international football happen. It is not going to happen.
Regardless of the stupidity of the NFL trying to extend its fan base (and the fact that they decided to use this great matchup in Mexico City instead of some other, irrelevant Week 11 matchup), this game is the one that I see the Patriots having the most trouble with.
Derek Carr is a superstar — he had my MVP vote from the beginning, and who knows what would have happened if he didn't break his leg at the end of the season. You put him and Amari Cooper against Brady and Julian Edelman, and boy, you have got a great matchup. It would not be surprising if this is one of the games the Pats lose because, quite frankly, these are probably the two best teams in the NFL right now. To watch them face off in the regular season will be a treat for both New England and Oakland.
And then they have got a whole lot of nothing for the following weeks. Weeks 12-17 are just the regular, boring games that New England fans love to hate to watch. There is Miami, Buffalo and the Jets (again), which should all be a piece of cake. However, the Patriots are notorious for losing one random game against teams like these, so I will not be surprised if the only two losses we see in the 2017 season come from a great team like Oakland and a subpar team like Miami.
But that is a big maybe — with a healthy Brady and Belichick (and maybe even Rob Gronkowski if he can stay healthy for more than a few damn weeks), Brandin Cooks, Dont'a Hightower and Stephon Gilmore, we could very likely get an undefeated season and ring number six in 2018. And if you really do not know it at this point, this is what a dynasty looks like — the Brady era of the New England Patriots.