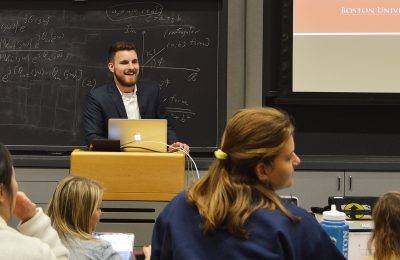 Boston University Student Government added a social responsibility amendment to its constitution during a Senate meeting Monday night.
The amendment was proposed as part of an effort to make structural changes to "pressing issues" within the BU community, said SG Vice President of Internal Affairs Jane Dimnwaobi, who proposed the amendment.
The amendment proposed to add a third section to Article I of the SG constitution. This section outlines social responsibility as a task of future members of the Executive Board, the College of Arts and Sciences junior said.
The amendment also outlined how students can report issues on campus through a form on the SG website. SG members will read through the reports and issue statements at the end of each month in response to submissions.
Dimnwaobi said the amendment is important because the function of SG is not only to pass budgetary proposals, but also to represent students to the administration.
"Something that has been lacking in the past is our ability to negotiate with administrators," Dimnwaobi said during the meeting. "The function of the [monthly] statements is to highlight that [SG] can affirm these experiences and present them to administrators and say that this is happening, and we want to do something about it."
Dimnwaobi said she was excited to see the amendment pass.
"I think it put a general desire for Student Government to have more relevancy in students' everyday life," Dimnwaobi said after the meeting. "This was one way I thought we could do that and I'm really glad that someone agreed and that we can move forward with the next [executive] board doing this."
Senate also elected Interfraternity Council Sen. Octavio Vidal as next year's Senate chair. The other two candidates were College of General Studies Sen. Vaishnavi Kothapalli and CAS Sen. Daniel Gonzalez in a runoff election.
Current Senate Chair Dan Collins said he was happy to see Vidal win the election.
"All three candidates I thought would have done a great job," Collins, a CAS junior, said after the meeting. "I am very happy and pleased that [Vidal] chose to run for this and to take this responsibility, and I think he's going to do a really great job. I'm a big fan of his."
CAS Sen. Zachary Treichel said he thought Vidal has been a helpful member in SG with his current position on the Rules Committee.
"It's good to have someone who has worked with the constitution because he would be ready to give us recommendations," the CAS senior said. "This is probably very important for the position itself and probably could encourage senators to be more interactive."
In addition, several senators said they thought the social responsibility amendment was a positive step for SG.
Sargent College of Health and Rehabilitation Sciences Sen. Nikita Varman said it is a good opportunity to get students involved with SG.
"I think it's a really good opportunity for us to be [students'] voices and really serve our constituencies," Varman, a Sargent sophomore, said.
Andrew Chiao, a Senate proxy for CAS, said the unanimous vote for the amendment is indicative of Senate's support.
"We spent about an hour revising it with amendments," Chiao, a CAS sophomore, said. "It looks that Senate wants it to look as well as Jane who proposed it and that shows Senate wants to collaborate closely with [executive] board."
Noor Adatia contributed to the reporting of this article.