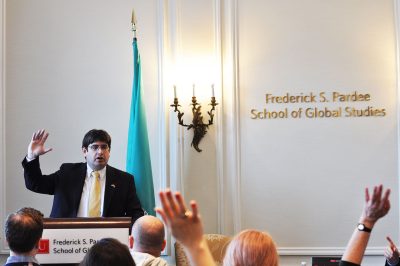 Fifty students and faculty gathered at the Pardee School of Global Studies for a conversation on relations between Cuba and the United States Thursday afternoon as part of Pardee's Beyond the Headlines conversation series.
Pardee Dean Adil Najam opened the conversation by emphasizing the importance of analyzing global issues.
"We want to understand the evolution of U.S. and Cuba relations," Najam said. "The opportunity to hear them from a Cuban perspective is a welcome one."
Secretary of the Cuban Embassy Miguel Fraga started the discussion by providing background information on Cuba-U.S. relations, elaborating on the U.S. embargo on Cuban goods. Fraga said the embargo is unpopular among Americans and hinders opportunities for necessary relationship building.
"If the majority of Americans don't want the embargo, if no country supports it, then why is still in place?" Fraga said. "The embargo is the main obstacle in relations between Cuba and the U.S."
Fraga said while Cuba is not a perfect country and has its flaws, but it is still seeking mutually beneficial relations with the United States.
"We are proud of many things, and the only thing we want are relations with goodwill and respect," he said. "We can have normal relations and that's good for both sides, that's what the majority wants. We are not a threat to the United States."
After his introductory speech, Pardee professor Paul Hare facilitated a conversation with Fraga and encouraged questions from the audience.
Hare, a former British ambassador to Cuba, noted that Cuba's leadership has connections with Boston University. Cuban President Raúl Castro's late wife attended BU's College of Engineering, he said.
In response to questions on Cuban immigration to the United States, Fraga said many of the Cubans who live in the United States are economic refugees who escaped financial troubles.
"The American Dream was not created for Cubans," Fraga said. "Cubans in Tampa and other places in Florida created cities in the United States."
Fraga also cited the Latin American School of Medicine in Cuba, which trains Cuban and American students to become doctors, is a good example of Cuba partaking in international cooperation.
"People have respect for Cuba," Fraga said. "Education is the key for freeing Cuba, and we have human resources."
However, Fraga added that initiatives like these are seldom reported in Western media.
"I want to see [the media] one day recognize all good that we have," Fraga said. "Unfortunately, when you [look] up Cuba, the majority of things that come up are bad things."
Toward the end of the conversation, Fraga speculated what lies ahead for Cuba.
"We can't be afraid of [change]," Fraga said. "I really believe that Cuba is here without many things, and we are proud and that is important for Cubans."
Several students in attendance said they found the conversation informative.
Jeyleani Sanchez, a College of Arts and Sciences freshman, said she attended the event because as a Cuban living in the United States, she is interested in learning more about the relations between the two countries.
"I wanted to see the different types of relationships and how that's changed and that's why it's interesting to me," Sanchez said.
Rotceh Vazquez-Guzman, a sophomore in the School of Education, said she came to the event because she said her class on Mexican and Cuban relations inspired her to do so.
"Sometimes, we don't hear what's going on in other countries, so it's important for other countries to know more about it," she said.
Anna Blanco, a CAS sophomore, said she is interested in the Cuba's future as its current president, Castro, is stepping down in 2018.
"I want to see that Cuba is going to get freedom," Blanco said. "I'm not particularly in favor of the U.S. getting involved in it, but I believe that Cuba might [benefit]. I'm positive and optimistic about the future."