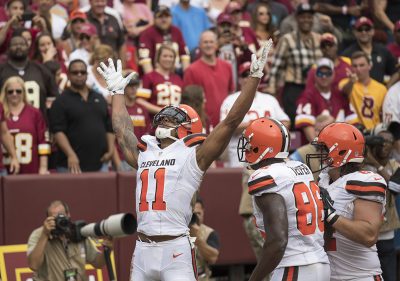 Do not let the post-draft hype behind the Cleveland Browns get to your head. While they find themselves as big winners on many draft recaps, the Browns rolled the dice throughout the draft on prospect after prospect on one thing: freakish athleticism.
They made the right call taking Myles Garrett with the first pick. They made their interest in Mitchell Trubisky known, and the Bears decided to take that bullet for them.
No offense to Trubisky, but the Browns' problems run much deeper than quarterback. They need to address issues around the quarterback before letting another go out and get killed. After a revolving door at the position last year (one being former-college-quarterback-turned-NFL-receiver Terrelle Pryor), they need to build the team around a quarterback to help him succeed.
Adding Michigan's Jabrill Peppers, a gadget-type player, made a big splash at pick 25, but where will he play? His one interception and 11 pass defenses in two full seasons do not show production for an NFL defensive back. Move him down in the box at five-foot-eleven and 213 pounds? I don't think so. That leaves special teams and offense. His athleticism creates problems for defenders, and he possesses great playmaking ability in open space, but it will be difficult for a rookie to learn three sides of the ball at the next level. This reach left the Browns with a master of none.
Miami Hurricanes tight end David Njoku has yet to unlock the level of talent he holds. Another athletic player who could develop into a monster in the middle of the field, he has question marks. He struggled with in-line blocking at Miami and had some trouble with drops as well. He never developed into a crisp route runner but provides a big target and playmaking ability. I thought the Browns would pair him with 2015 Pro Bowler Gary Barnidge in two tight end sets since the team is weak at receiver until the Browns cut Barnidge.
Ohio native Deshone Kizer is likely the most talented quarterback on the roster at the moment, but it would be a disservice to him if he starts early in the year. As far as young quarterbacks go, Kizer is as raw as they come. He is comparable to Colin Kaepernick in that he has size, mobility and arm strength on his side, but is an inconsistent decision maker and lacks field vision. Being benched for Malik Zaire raises concern. He needs time to develop and should not be thrown into the fire if they want him to be their franchise guy.
Larry Ogunjobi showed production for the Charlotte 49ers against a lower quality of competition in Conference USA. He pushes the pocket and uses his average size to his advantage with speed. He provides a good pairing on passing downs with Garrett but might get bullied inside on rushing downs.
William Jackson III is my favorite pick beside Garrett. He plays with physicality outside and in run support, and despite his thin frame, he has the speed and ball skills to develop into the top corner on 2016's 31st ranked pass defense.
Roderick Johnson is a developmental tackle with many flaws with his movement and balance. He will get a few years to learn from future Hall of Famer Joe Thomas, so there is some hope.
Caleb Brantley is not just a roll of the dice on athleticism and physical potential; he is a glaring red flag. He currently faces a misdemeanor battery charge for a physical altercation that resulted in the striking of a woman, knocking her unconscious. The Browns have come out and said they might release him shortly after taking him based on a team investigation into the situation, openly admitting they did not do their homework here.
Zane Gonzalez comes in as the 24th most accurate kicker in FBS history. Thankfully they took him in the seventh round and did not pull a Tampa Bay Bucs-Roberto Aguayo situation. Gonzalez should be an instant starter.
Matt Dayes likely will not make the 53-man roster, but if he does, it will be for his pass catching.
After losing Terrelle Pryor, Andrew Hawkins and Gary Barnidge, the offense lacks firepower. The offensive line is average-to-elite barring injury and the running back duo of Isaiah Crowell and Duke Johnson Jr. is not bad.
Bottom line is the Browns have nobody for any of their unproven quarterbacks to throw the ball to. Add in a secondary and linebacking group that cannot cover, and 2018 will be another year where the Browns will be picking at the top of the draft. They got up to the plate 10 times and blindly went swinging for the fences on the majority.
Let me be clear. I sincerely hope I am wrong about this draft class. Watching a good Browns team — while something I have never witnessed — would be incredible for NFL fans. But with their track record, we cannot say for certain that these players will be put in the best position to succeed. Do not get your hopes up, these are the same old Browns.
A previous version of this article incorrectly stated that the Cleveland Browns ranked 21st in pass defense last season. They actually ranked 31st. We regret making this mistake.