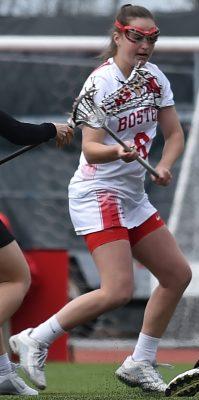 After winning four in a row to end the regular season, the Boston University women's lacrosse team will prepare for the Patriot League Tournament as the No. 4 seed. On Saturday, which was also senior day, the Terriers (9-7, 6-3 Patriot League) defeated American University 17-6 for a victory in their last regular season game on Nickerson Field.
Each of the seven seniors, including defenders Charlotte Castronovo, Janelle Macone, Talley Perkins and Ellie McKinnon, attackers Taylor Hardison and Elisabeth Jayne, and goalkeeper Caroline Meegan, were recognized for their contributions to the team over the last four years.
"During the pregame, we talked about the team honoring the seniors by the we played, and I thought that every member of the team did that," said BU head coach Liz Robertshaw.
Jayne recorded a hat trick, Meegan stopped five shots to bring her total to 196 overall saves on the season, and Perkins picked up two ground balls. Junior attacker Avery Donahoe also scored three goals in Saturday's victory.
Castronovo won three draw controls, and Perkins and McKinnon each got one. Overall, BU outnumbered American (3-13, 1-8 Patriot League) on draw controls 15 to 8.
"We were dominant on the draw controls which was really good," said Robertshaw.
BU's 11-goal win marked its largest victory this season, and 10 Terriers contributed goals. While Jayne and Hardison scored on their senior night, so did eight of their underclassmen.
"I felt we had some good attacking looks on a lot of people. We just played a pretty solid game overall," Robertshaw said.
Four freshmen got on the scoreboard, including midfielder Maggie Lohrer, who was one of two Terriers to score their first career goals. Sophomore attacker Catherine McAuley accompanied Lohrer as she scored both her first and second career goals contributing to the win.
Another freshman standout was attacker Kailey Conry, who gathered three assists against American and now has 50 assists during the season, breaking the record for most assists held by a Terrier in any season.
While the seniors near the end of their college careers, underclassmen have stepped up and proved they can provide added depth for the Terriers as they head into postseason play.
Between the pipes, each of the three goalies got in the game and recorded saves. Freshman goalkeeper Bianca Smith and junior Christine Laible saw action in net after Meegan departed.
As BU prepares to head into the Patriot League tournament, Robertshaw feels confident in her team.
"I think the team is mentally ready to go, I think this game and the last 3 wins before it have really helped us to sharpen up and be a little bit more aggressive towards our goals. I think that we're in a better place mentally and physically for it," Robertshaw said.
While Saturday's victory marked the last regular season game of the seniors' careers, they will step back on Nickerson Field on Tuesday to host No. 5 seed Lafayette College in the Patriot League Quarterfinal at 4 p.m. The Terriers beat the Leopards (10-7, 5-4 Patriot League) earlier in the season 20-16.
"I think there's always improvements to be made until the last game you play. Offensively, we had a lot of goals, but I think we could improve a couple of our looks and be a little cleaner, but overall I'm happy about it," Robertshaw said.