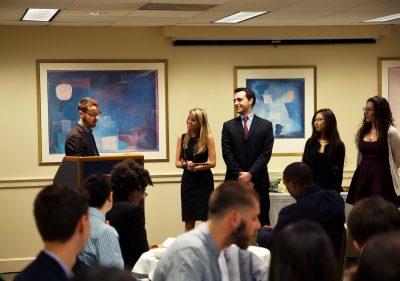 Boston University Student Government held "The Passing of the Gavel" ceremony Sunday night to recognize the work of current SG members as well as welcome the new Executive Board.
Next year's president-elect SaraAnn Kurkul organized the gathering, which took place in the Terrace Lounge of the George Sherman Union. Approximately 50 SG senators, college government members and cabinet members were in attendance.
Student Election Commission co-chair Ramya Ravindrababu, who helped organize the function, said that this is SG's first time holding such a ceremony.
"This is an opportunity to recognize some of the members of SG who have managed to get policies passed or accomplished things that are good for students," the senior said before the ceremony.
Ravindrababu also said this was a way for bringing the community together and celebrating SG.
"I think it's a really important way of bringing SG together and really creating a system of appreciation and community building," Ravindrababu said.
Kurkul hosted the festivities and introduced SG Executive President Jake Brewer, who formally induct the new board members who took an oath to "faithfully serve the students of BU." Brewer passed the gavel to Kurkul and to other members of the Your BU slate that won the election.
In addition, college governments and their respective president-elects for next year were also handed the gavel and took the oath.
Senators and committee members received awards in recognition of their work on SG this year. Some awards included the Dedicated Service Award given to Director of Academic Affairs Hamilton Millwee and the Senator of the Year Award given to the College of Arts and Sciences senator Anushka Pinto.
For their work on mental health advocacy, Mental Health Committee chair Ravindrababu received the award for best committee. On a lighter note, superlatives were also handed out to senators.
VP of Internal Affairs-elect Eva Jungreis said this was a way to bring everyone in the same room together.
"It's nice to put faces on the people you've been emailing and collaborating with," Jungreis said after the ceremony ended. "It's really rewarding to see yourself get recognition in a group like this."
Jungreis said she hopes to continue this tradition in the future.
"I think that the future will definitely stress the community which is a really big aspect of our platform and is a really big platform of tonight," Jungreis said. "Next year we're going to expand to connecting more with the campus."