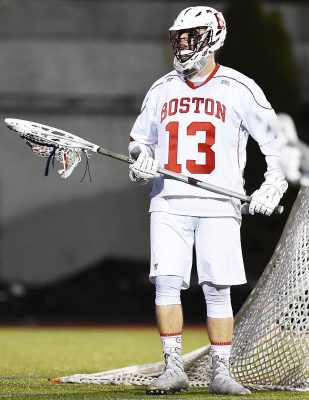 The awards keep on rolling in for graduated Terriers goaltender Christian Carson-Banister and midfielder Cal Dearth. The former Terriers were named All-Americans by the United States Intercollegiate Lacrosse Association on Wednesday.
Both players received the same honor by Inside Lacrosse earlier this month when the magazine announced its inaugural All-American list.
"It's a banner day for us," said Boston University men's lacrosse head coach Ryan Polley. "Each year we've made history. First year we got our first win, second year we beat a ranked opponent, this year spending as many weeks as we did in the top five of the Patriot League and competed in the tournament. Every year we've been building the program and checking boxes. Today was a great day that we got two All-Americans."
Carson-Banister was recognized as a Third Team All-American while Dearth earned an Honorable Mention All-American selection this season. After posting a .586 save percentage — good for third in the nation — Carson Banister aided the Terriers to a program highlighting season. The Dallas native anchored a defense that competed with top teams around the country. Carson-Banister was also selected as the Patriot Goalkeeper of the Year and was a First Team All-Patriot League performer.
Carson-Banister ended his career with 640 saves, which puts him second among active goalies in the NCAA. For his career at BU, he had a .557 save percentage and a 9.36 goals-against average.
"For Christian to be on one of the top three teams is pretty significant," Polley said. "I couldn't be prouder of Christian and Cal, and really, the whole program. It's a full program honor. Certainly you have great players and sometimes they get recognized for that but if your team does not do well then we don't get an opportunity to be on TV and have the whole country see us. [Without that,] these guys might not have gotten these awards."
Dearth also succeeded on a new level in his senior campaign. The Ridgefield, Conn. native amassed 57 points by scoring 38 goals and tallying 19 assists in his senior campaign. His 57 points and 38 goals are single-season records for BU, proving Dearth is the program's all-time leader in points, goals and assists. Dearth has earned All-Patriot League First Team honors the past three seasons, the only player in program history to accomplish that feat.
Dearth came up big during the final stretch of his senior year. During his final five games, Dearth scored 15 goals while also adding five assists. He had nine goals in the last two regular season games which helped BU become the third seed in the Patriot League Tournament
Dearth and Carson-Banister will be joined by fellow graduated teammates defender Dominick Calisto and midfielder Greg Wozniak when the four participate in the USILA North/South Senior All-Star game Friday night in Providence. Each of these players were selected to the All-Patriot League Team earlier this month.
Dearth and Carson-Banister headline their graduating class, the first four-year graduating class in program history. The awards are a testament to the growth of a program that went from two to six to eight to 12 wins over the seniors' careers.
"I'm really happy for this team and certainly the individuals they've become," Polley said. "The balance of our team — we had one guy on the offensive end doing great things and another guy dominant on the defense. A couple games we were able to score a bunch of goals and sometimes when our offense struggled our defense locked it down. It was a total team effort this year — we were really balanced and these two were at the top of their units."