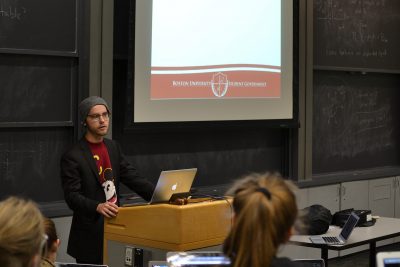 Boston University Student Government has its sight set on getting a student on the Board of Trustees — but not before a much-needed internal improvement, said President SaraAnn Kurkul.
In March, former SG President Jake Brewer proposed to Senate the idea of sending a student to board meetings. Senate passed the proposal a few weeks later.
Brewer then brought the proposal to President Robert Brown's office in a private meeting between the two on May 5. Brewer said that Brown discussed that before the administration would consider such a proposal, SG should more actively represent all students.
From Brown and the administration's perspective, SG functions more as a "student-run allocations board" than a body representative of BU students' interests, Brewer said.
"I think [Brown] feels that student government does not truly represent students enough to be the avenue for student voices on the Board of Trustees," he said.
Although Brewer and Kurkul were disappointed they weren't able to secure their spot on the board, both students — who were part of last year's executive board — recognized the truth in Brown's reasoning.
"Student government has not been very consistent," Kurkul said. "It's very fractured right now. We need a lot of reform."
With Brown's stipulations in mind, Kurkul said that SG's plan for future negotiations of a student seat has changed trajectory.
Kurkul said Brown's hopes for an engaged SG closely aligns with the incoming executive board's agenda. Since her slate, Your BU, won the executive board election in April, Kurkul said she has been working to reform SG  — from overhauling Senate's seat distribution to gathering all SG members at one biweekly Monday night meeting.
"We're trying to cut down on the bureaucracy in student government and make it more condensed into one system," the College of Communication senior said. "We just want to streamline everything to make it easier for students to access student government."
In recent months, Kurkul said she's been meeting regularly with Assistant Dean of Students John Battaglino, who, along with Brown and Dean of Students Kenneth Elmore, will provide administrative guidance and resources to strengthen SG's presence on campus next year.
Kurkul said with the administration's backing, she can picture SG getting its spot on the Board of Trustees by the end of the fall semester.
"I hope that once we can show to [Brown] that we are a body on campus that is effective and can get this all done, that he'll be more lenient towards letting us have a student on the Board of Trustees," she said. "We'll strengthen the community within student government so that we're able to go out into the community and be able to effectively advocate for the student body … I think it's really possible."