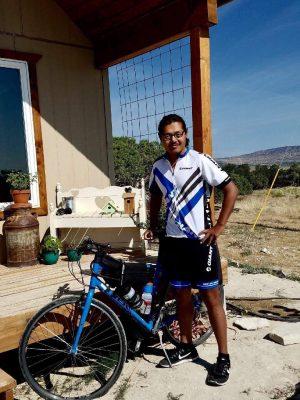 Carrying just a tent, a repair kit and some clothes on his back, Weiyang Gao, a College of Fine Arts senior, embarked on a 61-day biking trip across the United States to see the country firsthand. Gao recently completed his solo journey from Boston to the destination he calls paradise, San Francisco.
"I really wanted to do this because I want to see this country and I think biking is a really great way," Gao said. "You can see this country slowly, more details about how the people live and see changes from the east to the west. I really wanted to do a trip like this — so I just did it."
The painting major was inspired by the life of Jack Kerouac, a renowned author of the Beat Generation, a literary movement that began after World War II. The artists and authors of the time encouraged personal release and enlightenment, greatly emphasizing the importance of experience. Wanting to gain new perspectives as an aspiring artist, Gao began the trip on May 16 with an open mind.
Gao utilized an app called Warmshowers, which allows bikers to find hosts — usually avid bikers themselves — willing to lend a bed and a warm shower.
"Some of them were Mormons, some of them support Hillary Clinton, some support Bernie Sanders and even two Trump supporters hosted me," Gao said. "As a minority, they all treated me really [nicely]; they gave me a place to live and they gave me food. I think this trip kind of restored my faith in humanity."
Despite the political climate of the nation, Gao said he was pleasantly surprised to have experienced nothing but generosity and respect throughout the trip. He said it completely bashed all stereotypes he may have heard about those with varying political stances.
Whether he was eating lunch at a local diner or restocking his water supply at a grocery store, Gao said people across the country demonstrated support. Gao said he was taken aback by the numerous times his meals and necessities were paid for by absolute strangers.
After the trip, which he completed on July 16, Gao said he encourages everyone to truly listen to people before forming an opinion about them or their beliefs.
Bill Lorenz, 69, and his wife Saraleigh Monroe, 61, hosted Gao as he passed through Iowa. Long-time bikers themselves, they said they've hosted transcontinental and even worldwide bikers from around the globe, and they said they love not only learning about the bikers' unique stories, but sharing Des Moines with them.
Monroe, a docent at the Des Moines Art Center, shared her love for art with Gao, and showed him the unique John and Mary Pappajohn Sculpture Park that kept him in Iowa an extra day.
The newly-wed couple took time to share their experiences amidst the excitement of the Register's Annual Great Bicycle Ride Across Iowa, an annual bike ride across Iowa that lasts seven days and averages 468 miles.
"My wife has done this ride across Iowa twelve times; I've done it eight," Lorenz explained. "[The trip] transcends just the athletic achievement. Sometimes you surprise yourself at what you're capable of doing."
Monroe said there comes both mental strength and solace in biking.
"There is peace on a bicycle," she said. "Sometimes Bill and I refer to it as chasing our demons. It takes all the stress away. I think Wei was probably through his stress before he left Boston, before he left Massachusetts anyway."
Gao said he welcomed the quiet after being in the city all year, "Biking alone for at least six hours a day … I [had] a lot of time to think about a lot of things."
Although Gao couldn't say enough about the amazing experiences he had, he said he faced some challenges as well.
"I had a hard time in Iowa and Nebraska because there's nothing there; there's no mountains. There was one day I [could] only bike 30 miles because it was hard for me to move — the wind would just push me back."
However, the rich experiences and inspiring stories Gao heard along the way pushed him to continue.
Gao's host in Erie, Pennsylvania had suffered a heart attack when he was 59 and, after coming so close to death, the host was motivated to bike across America, which inspired Gao.
"He crossed the Rocky Mountains, the desert in Nevada, pretty much the same road I chose. And when I [felt] tired, he told me, 'If Leo can do it, you can do it,'" Gao said. "He was an amazing motivation for me to finish this trip because he almost died. But now he's really healthy. And I was like, 'Wow this was an amazing trip for him, it'll be an amazing trip for me too.'"