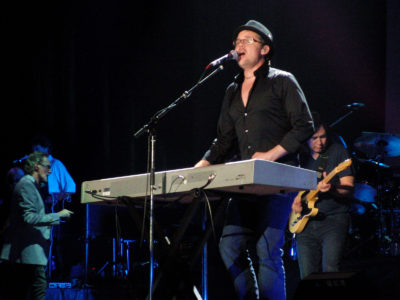 Singer and pianist extraordinaire Gabe Dixon has returned to the music scene with a new album, "Live in Boston," which was recorded live in the Red Room atCafe 939 at Berklee College of Music.
In the album, released Friday, the Nashville-based singer-songwriter opts for performing simple, ballad-style renditions of his most well-written songs, and the result can be considered the best album in the well-traveled musician's discography.
Dixon has made a name for himself through his previous solo studio albums "One Spark" and "Turns to Gold." Dixon has also released the records "On a Rolling Ball" and another self-titled album as part of a collective called The Gabe Dixon Band.
Dixon's previous records center around Dixon's vocals and piano, yet use an ensemble of other instruments. His music is an eclectic mash of genres that pulls influence from jazz, classic rock, country and southern rock.
While Dixon's previous records are well composed, they are uninteresting, falling into the backwash of bland soft rock bands that saturate the music scene.
Unlike some his previous records, Dixon performed "Live in Boston" as a solo act, and the songs were stripped down to just vocals over piano, giving the set a bare-bones feeling that improves the sound of his music.
Utilizing the two most powerful music weapons in his arsenal — his voice and his piano skills — Dixon delivers a one-of-a-kind show.
By choosing to perform as a solo act, Dixon sheds the genre of soft rock and improves his style by highlighting his strengths. The bravado and range of his voice stands out and his piano playing is more intricate, artful and coordinated.
In particular, Dixon accents the piano to make up for the lack of other instruments in his songs. In his studio albums, the piano functions as a cog which makes up a larger composition, whereas the piano in his solo set becomes something vibrant, almost living.
This dynamic performance using such simple instrumentation makes Dixon's first live record far more interesting than any other work he has produced to date.
While Dixon draws very distinct similarities in style between classic rock icons Billy Joel and Elton John, the stories he tells through his music is very unique to him.
Dixon's songwriting is very personal, and he touches on subjects of love, adolescence and homesickness. In his previous studio albums, the lyrics and personality of Dixon always shined brighter than the accompanying instrumentation.
Songs such as "Five More Hours" and "Last Fool" are the best examples of Dixon's skills as a songwriter and musical storyteller.
Other highlights from the set-list include the song "Flow Like Wine," in which Dixon's voice showcases its unprecedented range and tone.
"Live in Boston" flows extremely well from start to finish, beginning with faster paced songs with blazing piano runs and dynamic vocals. Toward the middle, the record slows down, ending in an emotional trio of piano ballads punctuated by the fitting closing track "Till You Are Gone."
Dixon's work as a solo act can work wonders on a song like "Holding Her Freedom," which is transformed from an overworked country rock tune to a vibrant display of piano skill.
Unfortunately, not every track gets the same makeover. "Crave," a fun pop-rock tune and one of Dixon's most popular studio recordings, sounds like it's missing several pieces in the bare-bones live version.
The album as a whole is an artful digression from his normal studio records by stripping down the production in his songs to their piano-driven core. His differentiation from his recorded material is what makes this album so great.
"Live in Boston" is a commanding display of music talent and showmanship that makes it one of the more remarkable live records in recent memory.