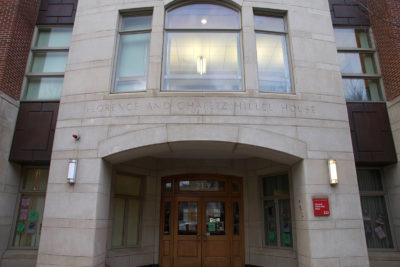 Following the resignation of the campus rabbi and executive director last year, Boston University's Florence and Chafetz Hillel House has hired several new staff members who say they hope to lead the organization in a more positive and inclusive direction.
Some of the recent additions to BU Hillel include both a new executive director and a new senior Jewish educator and campus rabbi, Linor Stein, Hillel's Israel fellow, wrote in an email.
Three years after transitioning from a career as a successful business executive to becoming a full-time rabbinical student, Jevin Eagle was not expecting to become the executive director of BU Hillel.
"My plan was to continue doing my studies full time and to just do a small internship on the side, but I went to BU and I met with students, faculty and board members," Eagle said. "My heart broke at how much opportunity there is and how short of the opportunity they were."
Eagle said his personal experiences with Hillel also contributed to his decision to join the staff.
"I found myself as a Jew at Hillel, and I ended up becoming president of the Hillel at Dartmouth as a student," he began. "I ended up on a religious journey that has brought me great meaning over my life. Ever since I graduated Dartmouth, I wanted to give back by helping other students have that same opportunity that I did."
Elie Lehmann, Hillel's new campus rabbi, said the vast amount of potential for a thriving Hillel on BU's campus was one of the factors that motivated him to take the position.
"This Hillel was a very exciting opportunity for me because it was a very large and diverse Jewish population, one of the largest Jewish populations of anywhere in the country for undergraduate students, and it was in this pivot moment," Lehmann said.
He added that he is most excited to interact with students on a deeper level.
"I am most looking forward to exploring with students their identities," Lehmann said. "We want to find out from students what their passions are, what brings them joy and meaning in life, makes them nervous and help them navigate their time on campus in the most meaningful and joyous ways."
Over the course of the summer months, Lehmann and Eagle began implementing significant changes to Hillel, including the creation of a strategic plan called the Path to Excellence.
"We spent all summer with a group of students, staff and board members going back to the basics and figuring out what is our real mission and vision, and what are our guiding values," Lehmann said. "We worked with a lot of stakeholders, students and staff and decided that the new mission is to inspire, educate and empower Boston University students to lead meaningful, joyous, Jewish lives."
Eagle said the new strategic plan outlines a "very pluralistic, welcoming approach" to achieving BU Hillel's new goals.
"We want to be the most welcoming, open, joyous and pluralistic Hillel in the country," Eagle said. "We want to be looked to by students and faculty and administrators as being a place that supremely welcomes people of all backgrounds, identities and faiths, and is a place that can help them, on their terms, find themselves."
Stein said that the BU Hillel staff already feels inspired by its new leaders.
"Their ability to bring the staff together is key to bringing the students together," Stein wrote in an email. "I think we have all found inspiration in Reb Jevin and Rabbi Elie's stories, and that inspires us to devote ourselves to making this a great Hillel, and a welcoming home for students."
Several students said they are impressed with the changes that had been made so far and are excited about the direction BU Hillel is going under its new leadership.
Emma Barg, a junior in the College of Arts and Sciences, said she contributed her vision for BU Hillel during the creation of the Path to Excellence strategic plan over the summer.
"I wanted a place where everybody was welcome, there was different and new learning opportunities, a kinder place and just creating more personal connections with the students," Barg said.
Atid Malka, a junior in CAS, said he was surprised to see the large impact Eagle and Lehmann have made in their short time on campus.
"From what they've already done, I think they've brought in more energy, and they're looking to do even more," Malka said. "I wasn't expecting very much to happen this quickly but the building has basically been turned on its head in a positive direction, and I'm excited to see where it goes."
Yonina Brenner, a sophomore in CAS, said she has noticed a recent effort to increase the number of students who participate in Hillel events.
"Already just in the first week leading up to Friday night they were doing a lot more outreach and publicity for Shabbat at Hillel, which I haven't really seen before," Brenner said. "I think they're hoping to revitalize the Jewish community on campus and make it a place where anybody who wants to come in, can and can feel welcome."