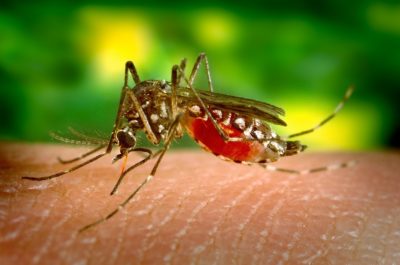 A resident of Bristol County was confirmed Friday to have contracted West Nile virus, marking the first human case in Massachusetts this year, according to the press release from the Massachusetts Department of Public Health.
"There have been so many WNV infected mosquitoes identified this year throughout the Commonwealth that the risk is widespread and ongoing," Catherine Brown of the DPH stated in the press release.
Joshua Barocas, a clinical research fellow in Infectious Disease at Massachusetts General Hospital, said in an email the virus seems well contained this year compared to past years.
"Thanks to prevention and education efforts throughout the state, there has only been … one reported case of [WNV] in Massachusetts," Barocas wrote. "That said, remaining diligent is key."
Barocas said because of the unusually warm weather, there is still a threat of mosquitoes even in September.
"As we are experiencing warmer weather into fall and winter due to climate change, there is a continued risk for Boston residents for tick and mosquito-borne infections," Barocas wrote. "The highest risk months are clearly those when the weather is at its warmest, but mosquitos are surviving later into the year which means that the risk persists."
Barocas said the virus is easy to detect and MGH is prepared in case there is a spike in infections.
"We have well-trained physicians who are excellent at identifying WNV signs and symptoms," Barocas said. "Our infectious disease consultation service is well-equipped to provide assistance in the event of an outbreak."
Omar Cabrera, manager of Ethnic Media and Community Outreach for the Boston Public Health Commission, said in an email that any indication of mosquitoes carrying the virus is a danger for the rest of the state.
"WNV thrives in hot seasons with periodic rainstorms which produce the best kind of habitat for the mosquitoes that spread WNV," Cabrera wrote. "This year we have detected WNV in mosquitoes across many parts of the Commonwealth, including areas that don't usually have much activity."
Given that there are this many at-risk areas, Cabrera said it is unusual to have so few human cases.
"In previous years when we have had this many positive mosquito samples, we have seen a higher number of cases," Cabrera wrote.
Mariah Johnston, a third semester master's of public health student in the School of Public Health at Boston University, said avoiding mosquito bites is key to preventing the spread of WNV.
"Trying to prevent mosquito bites is probably your biggest priority," Johnston said. "So wearing insect repellent, especially if you are in heavily wooded areas … and especially if there's a lot of reported mosquito activity in your area."
Given the prevalence of WNV carrying mosquitoes in Massachusetts, Johnston said the DPH's focus should be on being transparent with the public and keeping residents informed.
"One of the biggest things is awareness, so making the public aware and being very transparent with the public of where the disease is, where the first cases are, is it being quickly spread … and encouraging people if they produce certain symptoms that they should go to the nearest health facility and to get tested," Johnston said. "By involving the public that way then it helps identify more cases more quickly and hopefully prevents more spread of the virus."
In order to keep the public informed the DPH has also been making maps of where these infected mosquitos carrying the virus may be.
Several residents said they were surprised to hear about the prevalence of WNV-carrying mosquitoes in the Commonwealth.
Samantha Mills, 23, of Dorchester said she has heard of the virus but didn't know there were any diagnoses this close to her.
"I'm not worried about at all but this is the first time hearing that there are cases around," Mills said. "I mean that's slightly concerning … to know that it is here."
Tom Regan, 26, of Brighton said while he wasn't aware of the prevalence of WNV infections in Massachusetts, he does get tested regularly for the disease.  
"It's not something that I've heard of directly," Regan said. "I have to get tested for tuberculosis through work and stuff so I get [WNV] tested every year."
Gina Wood, 45, of Dorchester said she is worried because people entering the country may not have the proper vaccinations.
"Anyone that's coming from another country might not tell you that they have it … like they're trying to get away with something," Wood said.
Wood said she would worry more if the number of cases increased.
"If it's one, we can contain that but when it starts becoming three and four and ten of them then I'm worried," Wood said.