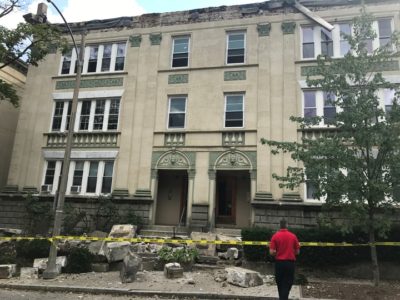 The facade of an apartment building in Brookline collapsed into the building's entryway early Friday afternoon, displacing several BU students. The Brookline Police Department confirmed there were no injuries.
The BPD and the Brookline Fire Department helped residents of 68-72 Egmont St. collect their belongings. Residents were only allowed to go into the building through the back entrance accompanied by a police or fire department official. BPD Officer Brian Sheehy instructed residents to bring valuables and enough clothes for a few days.
Some residents of 68-72 Egmont St. are going to stay with friends on campus while others will be staying in the nearby Holiday Inn Boston-Brookline until further notice, Tony Tam, a representative from the unit's management company, Kai Fai Management, said. Tam said the displacement "will not be a long-term situation."
Those living nearby on Egmont and St. Paul Streets were instructed to access their apartments through the back of the complex until a structural engineer can assesses the building's safety, BPD Lieutenant Michael Raskin said.
Tam told residents that scaffolding is going up this weekend to make sure nothing else falls during repairs, and they can eventually re-enter when the building commissioner gives them the OK, which Tam estimated to be on Monday or Tuesday.
Dean of Students Kenneth Elmore encouraged the students to let their professors know what's happening and said the university will send emails to their respective schools.
Some residents said they appreciated Elmore's helpfulness, but many said they were upset and scared. One resident of 68 Egmont St. was reading her lease, and another said her mom has already contacted her lawyer.
A crane arrived at the premise later in the afternoon to clear the fallen concrete blocks in the entryway along with the debris hanging on the building's roof.
Alana Levene and Andres Picon contributed to the reporting of this article.