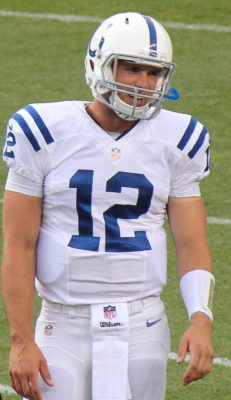 Sometimes the loudest cries for help are silent and what National Football League superstar is more silent than Andrew Luck. Yeah, you remember him right? The Stanford nerd turned 2012 first overall pick. The multi-million dollar man who rocks the neckbeard and flip phone. The franchise quarterback to lead the next generation in a post-Manning/Brady NFL. Yeah that guy, what happened to him?
As the top quarterback prospect to come out of college in the past 30 years, Luck could only be compared to two other can't miss prospects: John Elway and Peyton Manning. These are big shoes to fill, especially when the team you just got drafted to just-released Manning in order to draft you. And it looked like he would live up to these lofty expectations as he leads his team to the playoffs in each of his first three years, advancing one more round each year.
But it feels like a decade ago since Luck single-handedly put his team on his back and carried them to the AFC Title Game in 2014 and since then it is as if he vanished into some NFL witness protection program and it's all the Colts' fault.
Luck spent the 2015 and 2016 seasons battling through a nagging shoulder injury which caused him to have surgery this offseason. He also suffered a lacerated kidney against the Broncos in November of 2015 while playing through the shoulder injury. Later reports in 2015 said that by returning from injury too early, Luck also suffered injuries to his ribs, which coupled together with a shoulder injury makes it virtually impossible to throw at a high level. He then played through 2016 with the same shoulder issues after not having surgery on anyone of his injuries.
Then finally, after two years of his team being in denial about just how injured he was, Luck had shoulder surgery on Jan. 19, 2017.
Luck's struggles to constantly stay on the field and off the injury report are not because he is injury prone, or not tough enough, as some have implied. It is solely on Indianapolis' organizational malpractice by surrounding him with a bottom half offensive line, pedestrian defense and small, speedy receivers who can virtually only run a go.
It's as if Chuck Pagano's favorite play call is the seven-step drop sack (or maybe it's that fake punt he ran versus the Patriots). I mean, Pagano clearly doesn't even know what team he is playing after crediting the 49ers following their embarrassing 46-9 dismantling by the Los Angeles Rams.
Newly hired general manager Chris Ballard is like a parent who comes home with LEGOs scattered all over the house that former GM Ryan Grigson left behind for him to step on and clean up himself. Remember this is not an over exaggeration, this is the same Grigson who traded the Colts first-round pick in the stacked 2014 draft for Trent Richardson.
Then that leaves owner Jim Irsay, perhaps the face of the prescription drug problem in the NFL. A man with many glaring incidences in his past is the poster-boy for instability at the top of an organization.
This disarray the Colts organization finds itself in, from top to bottom, directly lead to the absurd mishandling of a generational talent has gone on for long enough. Now while some speculate that Luck might want out of Indianapolis, he isn't going anywhere anytime soon. Luck seems to want stability for the franchise he was drafted by, but to get that, where do they turn? Well, a great place to start is just up north in Ann Arbor.
Jim Harbaugh might be the perfect fit to bring the Colts back into relevancy. First let's discuss the obvious, Harbaugh played for Indianapolis from 1994-97 and coached Luck at Stanford. There are about six elite coaches in college football right now: Nick Saban, Dabo Swinney, Jimbo Fisher, Urban Meyer, David Shaw and Harbaugh. And though Harbaugh hasn't coached in a national title game, he did lead a team to a Super Bowl appearance.
Harbaugh is a proven winner in the NFL after completely changing the culture in San Francisco. He built the 49ers into NFC powerhouse with a fast and hard-hitting defense and an offense predicated on physicality and a power running game with Colts current running back Frank Gore.
This physical identity is exactly what this soft Colts team needs. Imagine a team with a healthy Andrew Luck, a physically imposing defense and a run-heavy offense that lets Luck roll out of the pocket and work on play action. That sounds like a team that in a weak division and a top-heavy conference could make a deep playoff run.
Harbaugh could be Andrew Luck's savior in Indianapolis, but would he want to be? We know Harbaugh doesn't stay in one place very long (San Diego 2004-06, Stanford 2007-10, San Francisco 2011-d14, and Michigan 2015-present) so history shows he could be on the move again sooner rather than later. We also know Harbaugh is the ultimate competitor and will want another shot at the next level.
Maybe Harbaugh will wait for his second tour of the NFL until a more stable organization comes calling, and nobody would blame him. Does Dallas move on from Jason Garrett if he continues to lose in the playoffs? Bill O'Brien is on the hot seat after a slow start in Houston. Even Chicago, the organization who drafted him with the 26th overall pick in 1987, seems like a potential landing spot in the future. But if you are the Colts, you better call Harbaugh, and you better give him all the control he wants so he can save your superstar.