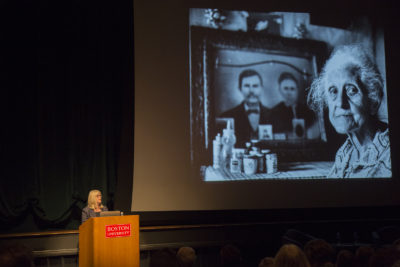 As part of Boston University's Alumni Weekend, Mary Elizabeth Aitcheson "Tipper" Gore presented photographs on Saturday that she has taken throughout her life, and told the stories behind the images — while also discussing her involvement in various philanthropic causes.
Gore's presentation, which around 120 alumni and students attended, was followed by a conversation with CAS Dean Ann Cudd. Cudd said the former second lady and 1970 College of Arts and Sciences alumna received one of the university's distinguished alumni awards, which was given out this alumni weekend. She added that Gore donated a set of her photographs to BU, which are now hung across the hall from the Think Tank in CAS.
During her presentation, Gore showed images from ten political campaigns throughout the career of her husband, former Vice President Albert Gore.
She shared photos from official trips to countries such as Korea, Argentina and South Africa, as well as portraits she took featuring prominent figures like Nelson Mandela, Maya Angelou and Hillary Clinton.
Gore is an active philanthropist who has engaged with a number of causes such as homelessness, gun violence, AIDS/HIV awareness, LGBT issues and climate change.
She discussed how she wanted to use the "power of the photograph" to try to communicate the issue of homelessness in the United States with her book, "The Way Home: Ending Homelessness in America."  
"I noticed that when talking about the numbers of homeless families and women and children that were growing, particularly back in the '80s, people's eyes would glaze over and they just didn't really want to hear about it," Gore said. "The power of the photograph did help. We put our cameras to the test, published a book of photos, and put a face to the statistic."
In her conversation with Cudd, Gore spoke about the stark differences between BU today during her time on campus, the current state of American politics and many of the philanthropic causes she has become involved with.
Gore said she was struck by the calmness on BU's campus compared to the frequent protests against the Vietnam War that took place when she was a psychology student at BU.
"I walked the length and breadth of [the campus] yesterday and I was very impressed with the new buildings and the diversity of the students I saw on the streets, but at the same time, I'm like, 'It's so calm, where are the protesters?'" Gore said.
She said the lack of civic engagement and activism she noticed on campus was concerning considering the current political climate.
"I do wonder not just for Boston University but around the country, if people who are upset about what's going on, know that they need to step up and need to be active," she added. "I want to remind young people that the fate of our democracy hangs in the balance and it hangs in the balance of them being engaged and active about democracy."
Gore also discussed her methodology for choosing the charitable causes she devotes time and effort to.
"Children as individuals don't have a voice, the homeless don't have a voice, the LGBTQ community doesn't have a voice, so to give a voice to voices that aren't heard and amplify them," Gore said.
Several attendees of the event said they were interested to see Gore's photographs and hear her discuss her life experiences and philanthropic work.
Andrea Brown, 67, of Marblehead, said she came to the event because she and Gore attended BU at the same time.
"I saw they were having a Tipper Gore event and I knew that she was at BU at the same time I was and that's why I came," Brown said.
Brown said she wanted to see Gore and Cudd "discussing her photography, her charity work and her philanthropic work."
Hayley Mandelberg, a junior in the College of Communication, said she attended the event to see Gore present her photographs showing the degradation of the climate.
"I'm a big fan of Al Gore and what he's been doing in terms of the fight for climate change and I was hoping she would show the photos she's taken of the earth, which she did," Mandelberg said.
"It was a cool event," she added. "She's a really interesting and accomplished person, so I'm really glad I came."