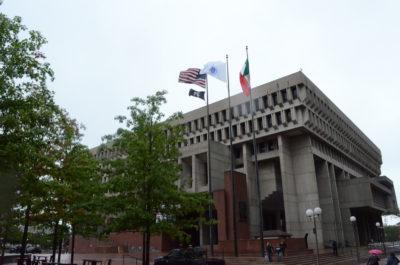 Camp Constitution, a Christian organization focused on studying the nation's heritage, is threatening to file a lawsuit against the City if officials deny the group's demand to fly a Christian flag on City Hall Plaza, said Hal Shurtleff, the director and co-founder of Camp Constitution.
Shurtleff's initial request to allow for the group to raise the flag was met with a written denial on Sept. 8 from the Commissioner of the City of Boston Property Management Department Gregory Rooney, on grounds related to the separation of church and state, according to Boston Mayor Martin Walsh's press office.
Upon obtaining legal aid through the Liberty Counsel, a Christian ministry, Shurtleff said Camp Constitution plans on moving forward regardless of the City's first decision, as a means of defending their freedom of speech.
"We're not looking for any millions of dollars, we're looking for them to give us the permit so we can raise the flag. That's about it," Shurtleff said. "Here we are called Camp Constitution, and we have a constitutional issue here, and we got to pursue it."
Shurtleff said he did not plan for his request to result in a conflict, nor did he expect for the issue to draw as much attention as it has thus far. Originally, the group was to host a small event on the plaza, in conjunction with raising the Christian flag.
"I thought that it would be nice to raise the Christian flag to remind people about Boston's very unique history as strong Christian tradition," Shurtleff said. "If they had gave me the permit, we probably would have no more than fifty or sixty people at the most there. We would've had a nice little photo-op, some nice video, and we would've went home."
City Hall Plaza has never raised a religious flag before, but mainly national flags, flags related to social issues and flags with historical significance, according to the mayor's press office.
Rooney wrote in an email addressed to Shurtleff that the City maintains its stance of refraining from flying non-secular flags on the City Hall flagpoles, a forum for government speech and not private speech.
The City offered to consider a request from the group to fly a non-religious flag, although Shurtleff said he denied the proposal.
Mat Staver, founder and chairman of Liberty Counsel, the legal aid representing Camp Constitution, said City Hall Plaza is a public forum, and by officials denying the group's request to fly the Christian flag, the problem becomes one centered on "classic viewpoint discrimination."
Staver said in this public forum, private speech is occurring on public property, and cannot be attributed to the government, but solely to the private actor.
"The Supreme Court has said, multiple times, that religious speech is not an establishment of religion, it's private speech," Staver said. "Just because private religious speech occurs in a public forum doesn't make it an establishment of religion."
In the past, Staver said, the city has allowed for a wide variety of flags to be raised, as well as events celebrated on the plaza.
"They have had the communist China, Cuba [flags] … the Boston Pride flag, and the pink and blue transgender flag," Staver said.
If the City does not respond with an approval of the group's demand for the Christian flag to be raised, Staver said, a federal lawsuit will very likely be pursued.
Several Boston residents voiced approval for Camp Constitution's request to raise the Christian flag on City Hall Plaza, and said the group should be allowed to freely express their beliefs.
Brian Jones, 29, of Kenmore, said he believes all individuals are at liberty to voice their religious views.
"Everyone has the right to demonstrate their practice in religion," Jones said. "I think the government, or the state, should probably make some changes in their laws if they think it's going to be a clashing of interest."
Melissa Holdren, 39, of Allston, said she does not see an issue with the organization raising the flag overall, but expressed she is against them doing so on property funded by taxpayers.
"As long as it's not on property that's being paid for by public taxes, yes they can raise the flag wherever they would like," Holdren said. "Not if the government grounds we are talking about are paid for by public taxes, no. Just across the street, sure, go for it."
Emily Moran, 26, of Fenway, said Camp Constitution should have free reins to raise the Christian flag on the plaza.
"They should be allowed to raise their flag if it's not harming anyone and it's just showing what they believe in," Moran said. "As long as everything is reasonable, and no one is being harmed, and there aren't any laws being broken."