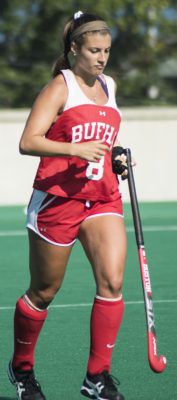 Not only does senior field hockey player Allie Renzi have a passion for the game she plays, but the Terrier mid/forward is also passionate about food and nutrition. The Boston University athlete sat down to discuss her love of food, nutrition and the importance of living a healthy lifestyle.
Where did your passion for food come from?
I think a big part of that probably came from my parents. My parents are super healthy. Then being a girl in this day and age and with social media a lot of eating disorders can be developed from what people see on social media. I just wanted to be someone that was helping on social media instead of hurting.
Growing up, what was your favorite family meal?
My dad makes amazing chicken cutlets. It's basically chicken parm because we put sauce on it, but we just call them chicken cutlets.
Is there any food that you despise?
I really don't like raw spinach. Raw spinach really grosses me out.
Why is it important for someone who is not a high level athlete to eat nutritiously?
It's your whole life. It's your whole entire livelihood. It's how you feel, your mood and the way it affects you is incredible. With hormones put in our food and antibiotics and all that it can affect you day-to-day without you realizing it.
Now let's talk about your food Instagram @thegrumblingtummy, what is its purpose?
I'm really hoping that once I graduate or once I'm done playing field hockey and I can start doing promotions. I could be a promoter for different types of healthy food brands and hopefully get the chance to travel around the world and cook for different types of companies and be a recipe developer.
What are your short-term goals for this Instagram page?
I'm working on generating a loyal follower base. Engagement is really important when companies are looking for bloggers to develop their product.
Where do you get inspiration for recipes?
Mostly from cravings with junk food. I think a lot of times, as athletes, we tend to get together and be like, "Oh, let's have Ben and Jerry's or let's have pizza or something like that." So I think, "If we want to have pizza how can I make it healthier? If I want chicken fingers how can I make them healthier?"
Who takes the pictures?
Me.
How important is it for you to eat healthy food that truly has a lot of flavor?
Nutrition comes first for me because I want it to be healthy. To be honest, not all the food I make tastes good but that's a part of trying different things. Every recipe you make isn't going to be 100 percent [tasty]. I do the best I can, but I haven't been trained in any way so sometimes it's a little rough on the eyes.
What's the most intricate dish you have ever made?
It's bikini bolognese from the "Inspiralized" cookbook. I just wanted to try something off of there, there's a lot of good ingredients in it.
Is there any food that you have completely shut out of your diet?
No, I think it's important not to do that. You shouldn't cut yourself off of anything.
What's one nutrition fact that the average person doesn't know that they should be aware of?
All those fad diets that have to do with cutting out carbs, cutting our protein, or say that carbs are bad. Actually, if you do not eat enough carbs then your body cannot absorb the protein the right way and it uses protein as energy instead to build muscle.
Do you like to cook?
I do enjoy cooking, and grocery shopping for that matter.
For yourself, or for others?
I normally cook for myself because I get nervous in front of other people, but once I get a recipe completely down pat then I'll cook for others. Or, I'll ask my roommates to try things like these coconut cookies I just made. I have them try them and be honest about it.
Chipotle order, go.
I don't like Chipotle that much. I honestly don't know, I don't know the ingredients there.
Starbucks order too, go.
I don't drink coffee either, I'm sorry.
What's the best meal you've shared with your team?
We went to our coaches' lake house this preseason and we had a huge lobster bake. It was cooked with seaweed, it was so good! It was like your classic New England lobster bake with seaweed and mussels, hardboiled eggs and potatoes. The lobster was great and it was a fun atmosphere.
Who's the pickiest eater on the team?
I think it's Grace Boston. Not because she's a picky but because she has a lot of food intolerances.
If you were to open a restaurant, what teammate would be your sous chef?
Probably one of the freshmen, Shannon Ma. She just seems like the type of person who would do a good job at anything and be in a good mood the entire time.
What would the name of your restaurant be?
The Grumbling Tummy.