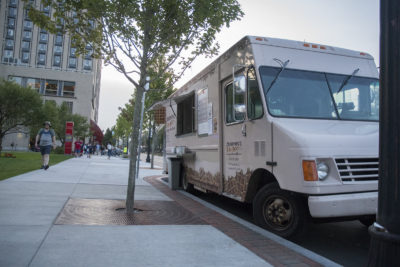 Serving as an alternative to dining halls on campus, food trucks at Boston University are a popular choice for students and faculty to grab a bite to eat during the day, whether it's slices from Sweet Tomatoes Pizza Truck, waffles at Zinneken's or ice cream sandwiches at Frozen Hoagies.
While these are all old favorites, a few new food trucks have recently found a regular place to park at BU.
Rice Burg, which was officially added to the food truck rotation at BU East outside of the College of Communication, specializes in rice burgers that replace the common bread buns with rice, as well as various unique meat and vegetarian fillings.
"We're more geared toward the Asian side, so we have Bulgogi shaved steak, sweet and sour chicken and even Szechuan Mala spicy chicken," Rice Burg owner Jessica Shen said.
Rice Burg's menu also has vegan options including the shaved shiitake mushroom burger and an imitation version of the chicken found in the Mala spicy chicken burger.
This truck has been serving the BU community since last year on select Saturdays at the former 1 Silber Way location, but it has now moved permanently to the 610 Commonwealth Ave. location, serving lunch from 11 a.m. to 3 p.m. on Mondays.
Shen said she enjoys BU East's atmosphere relative to other food truck stops around the city.
"There are places for people to sit and eat and wait outside of the truck," Shen said. "It's not congested like other places the city provides."
This is the truck's second year of business in Boston, with other locations in the financial district downtown, Northeastern University and the SoWa Open Market.
Rice Burg is one of the nine food trucks returning to BU's campus this year, according to the City of Boston's neighborhood business manager Prayas Neupane, who oversees the city's food truck program.
Also new to campus this year is the Kebabish Indian-style food truck, which will stop at BU East on Mondays from 3 to 8 p.m. Kebabish offers platters and wraps, along with its popular chicken over rice.
Currently, BU East is the only location for food trucks on campus, as the other spot on campus, BU West, is not occupied due to construction near the BU Bridge. However, Neupane said BU West should reopen for the spring semester.
Nevertheless, the BU East location is one of the most popular sites in Boston, Neupane said, attributing this to its convenience for college students.
He added that the popularity of food trucks on campus stems from the variety of options incorporating different cultures and healthy food options.
"When trucks started in Boston, the idea was of getting different healthy food options in different parts of the community," Neupane said, "so a lot of trucks value that a lot, so there's definitely a healthy menu there."
BU student Jacob Novick, a Questrom School of Business freshman, ordered a sandwich from The Dining Cart before heading to class, saying it was the most convenient option at the time.
"I have limited swipes at the dining hall and I wasn't close to one of them," Novick said. "[But] if I'm in my dorm, then it's easier to go to the dining hall.
Meanwhile, Questrom junior Anika Dhar, who frequents Zinneken's food truck for waffles, said she appreciates their new location outside of COM, which makes it easier for her to grab her dessert.
But Dhar also noted the steep pricing for food offered at these trucks. The price for a waffle with toppings from Zinneken's can range anywhere from $5.50 to $8.50.
"Food trucks can be a little bit pricier, but it's worth the price because it is gourmet," Dhar said. "It is readily available at the most convenient spots."
While she typically opts for the dining hall before food trucks, Rachel Chen, a College of Arts and Sciences senior, said she appreciated the convenience of the trucks.
"[Food trucks] are really efficient because they generally prepare food in a short amount of time," Chen said. "It's really convenient if you don't want to sit down for a meal."