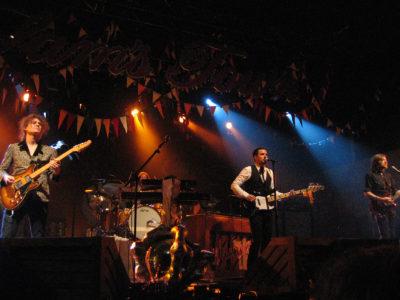 Not all bands can go on a multi-year hiatus and still produce an album that can only be described as stunning.
Fortunately, The Killers can. The Vegas-based rock band's latest album, "Wonderful Wonderful" debuts Friday as their first studio album in five years.
It's the type of album that begs to be listened to more than once. In simplest terms, it demands to be heard. "Wonderful Wonderful" has it all: thought-provoking lyrics, great music and enough variation throughout to keep any listener interested.
The first song, "Wonderful Wonderful," starts the album with good, powerful drum beats that give it a sort of melodic intensity that continues throughout. It's undoubtedly a great way to introduce the rest of the album.
The third song, "Rut," is by far the best song on the whole album. The lyrics and music convey a raw, intense honesty.
They beg an unknown loved one, "Don't give up on me / 'Cause I'm just in a rut / I'm climbing but the walls keep stacking up." It speaks about falling on rough times, but having the optimism and courage to realize that things will get better if one keeps working to get out of their "rut."
"Life to Come" is the fourth song on the album and is simultaneously hopeful and melancholy. The tone starts out slow, but picks up the pace with a lively drumbeat, thereby conveying the message that while times may seem hopeless, all bad things shall pass.
"Run for Cover" has a well-composed and old-fashioned rock-and-roll vibe. The fun, upbeat tempo could definitely get people out of their seats and dancing to this song.
One of the songs that stands out the most is "Tyson vs. Douglas," the album's sixth song. The title refers to the defeat of then-undefeated boxing world champion Mike Tyson in 1990 at the hands of Buster Douglas.
The intro contains a sound bite from that infamous match. However, other than the reference to boxing, "Tyson vs. Douglas" is relatively unremarkable from the much more lively and inspired than the other songs on this album.
"Some Kind of Love" proves itself to be another potentially weak point of "Wonderful Wonderful."
The song starts at a very slow, almost melancholy tempo and lacks the upbeat, lively and optimistic tempo the other songs have.
That is not to say that "Some Kind of Love" is terrible, as lead singer Brandon Flowers' earnest and honest voice carries it out of potential dullness.
"The Calling" boasts a celebrity guest star: Woody Harrelson. Harrelson lends his voice in the song's intro with a reading of a Bible verse. His involvement is a surprise, but not an unwelcome one. The song itself maintains an intensity that calls attention to itself, and stands out on its own. Harrelson's appearance is just a bonus.
The 10-track version of the album concludes with "Have All the Songs Been Written?" which starts off slow and inquisitive and maintains a sort of melodic beauty to it.
This is no doubt thanks to Flowers' breathtaking voice. "Have All The Songs Been Written?" is tonally existential, but nevertheless continues to impart that optimism that has remained a constant for the majority of this album.
"Wonderful Wonderful" is guaranteed to make The Killers' fans happy, and its accessible yet unique style will most likely draw in new admirers. The songs are, for the most part, optimistic and fun to listen to, and, while there are a few numbers on this album that are not as pleasing as others, they are far from horrendous.
Lead vocalist Flowers' voice is particularly memorable, and his range and ability to impart true emotion and melodic optimism carry the album from potential mediocrity to greatness. Drummer Ronnie Vannucci Jr. is also noteworthy, as many songs possess a strong, confident drumbeat that imparts a sense of intensity to his audience.
"Wonderful Wonderful" is definitely worth the five-year wait. With meaningful lyrics, great music, and true talent, the Killers undoubtedly have a hit album on their hands. "Wonderful Wonderful" is, put simply, wonderful.