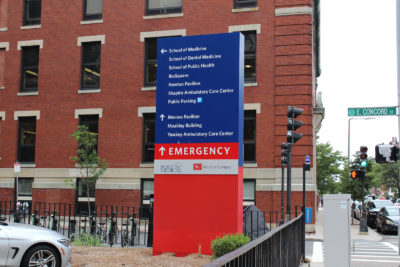 Researchers from the Boston University School of Medicine's Chronic Traumatic Encephalopathy Center published a study linking childhood involvement in youth tackle football with behavioral problems and depression later in life, according to Michael Alosco, the study's lead author and a clinical neuropsychology fellow at BUSM.
The study reviewed 214 former football players through telephone-administered cognitive tests and online quizzes to examine their depression, behavioral regulation, apathy and executive functioning, Alosco wrote in an email. The study found that a child's chance of developing behavioral problems doubled with participation in tackle football, he wrote that the prospect of acquiring depression tripled.
Researchers limited the age to 12 because the male brain experiences a fundamental phase of growth and development between the ages of 10 and 12, according to Daniel Daneshvar, a researcher at BUSM.
Previous research from the CTE Center on youth football's impacts examined former professional football players and found that playing football before age 12 was associated with detrimental memory and mental flexibility, Alosco added. This most recent study added amateur players to the mix.
Alosco wrote in an email that youth participation in tackle football can lead to devastating outcomes.
"This study adds to growing research suggesting that experiencing repeated head impacts through tackle football earlier in life can lead to both short-term and long-term effects on the brain," Alosco wrote. "Even when a specific age cutoff was not used, younger age of exposure to tackle football corresponded with worse clinical status."
However, Alosco noted that the study should not minimize the positive effect that playing sports can have for a young child.
"It is really important to note that participation in sports and athletics can have so many important benefits, including the development of leadership skills, self-confidence, social skills, and work ethic, not to mention the tremendous health benefits from exercising," Alosco wrote. "Our goal is to make sure that children can take advantage of all of the benefits of sports participation without the risk of difficulties later in life."
More research on the topic is necessary before making any recommendations on policy or rule changes, according to Alosco. He added that the study's findings should only be applied to male former football players, as research on female athletes and male athletes of other sports is not as plentiful in this regard.
Daneshvar wrote in an email that when children are vulnerable to head trauma at a young age, it could lead to substantial issues down the line.
"A typical football player is exposed to hundreds of head impacts every year they play," Daneshvar said. "While this study does not prove any relationship, it suggests that exposing kids to these hits before their brain reaches certain developmental milestones may lead to significant problems later in life."
The initial question researchers asked themselves when conducting the study was not whether playing tackle football had a long-term effect on a player's developmental issues, but whether it was connected to playing at a young age, according to Daneshvar.
"We were trying to determine whether there is a relationship between starting football earlier, and issues later in life," Daneshvar wrote.
Neurology professor Andrew Budson wrote in an email that playing football before the age of 12 may prohibit former players from achieving other forms of success down the line.
"Much of our ability to be successful in life depends upon our being proactive, our use of good judgment, and our ability to regulate our behavior," Budson said. "That starting to play football prior to age 12 impairs such abilities — and makes one more likely to be depressed — means that those who get a head start on football are likely to end up behind in life."
Alan Mandell, a professor of neurology and psychiatry within BU's Alzheimer's Disease Center, said he thinks football should be outlawed.
"If I had kids, I sure wouldn't allow them to play football," Mandell said. "My understanding is that [the researchers] didn't particularly address CTE per say, they addressed whether it was a good idea for kids to play football. I would certainly endorse that because to me, it's absolutely common sense. Football should be banned — that's all there is to it."