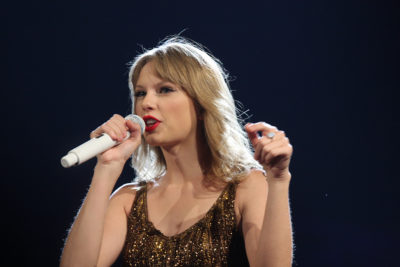 Polarizing public figures are no new construction. And if you combine the concept of celebrity with the landscape of social media, famous personalities now become personal brands that people either love or hate.
Among the biggest polarizing star is Taylor Swift. Swifties love her; others call her a snake. Once viewed as the golden girl of the music industry, somewhere along the line, the public perception shifted to her being fake, stuck up and using people for her personal gain.
If there is one singular incident to point to that caused so much polarization in Swift's public perception, it's her feud with Kanye West. We all know how it started. In possibly the first internet-breaking moment in the social media era, Kanye jumped on stage and interrupted Swift's acceptance speech at the 2009 Video Music Awards.
After back and forth for the subsequent years, Kanye released "Famous" in 2016 which prominently features the lyrics: "I feel like me and Taylor might still have sex / Why? I made that b**** famous." Swift claims that she didn't approve of the lyrics, but Kanye and his wife Kim Kardashian have a different view of what happened. Then last month Swift released "Look What You Made Me Do," the pop music equivalent of a rap dis-track to all of those, including Kanye, who have "wronged" her.
This he-said-she-said celebrity beef between two of music's biggest stars caused such a divide in the music world that everyone is forced to pick a side: Team Taylor or Team Kanye.
Yes, the first half of this week's column devoted entirely to celebrity drama, and the second half will be too. Though we often don't always perceive or treat them the same, professional athletes are celebrities. And sometimes we craft modern celebrity archetypes to label and group stars together.
Doesn't the narrative around Swift draw stark parallels to Kevin Durant?
They both are called snakes. They both obsess over striking back at their haters. They both are at odds with other mega-stars in their profession — Russell Westbrook, and Kanye West. They both took dramatic turns from their more likable, humble beginnings in Oklahoma City and country music and ran toward Golden State and pop music. For two of the most successful people in their respective fields, they both seem to hold a deeply seeded victim complex they can't seem to shake off, no matter their success.
For a guy who just won the MVP of the National Basketball Association Finals, Durant is completely distressed. He made it obvious he has secret Twitter accounts to go online and defend himself. Unless you believe he was just going to openly tweet bashing his former coach, teammates, and organization while referring to himself in the third person and then backtrack by deleting those tweets.
After a YouTube commenter told KD he shouldn't care what internet trolls are saying about him, KD responded saying, "I play basketball, I got acne, I grew up with nothing, [I'm] still figuring myself out in my late 20, I slide in DMs, I make fun of my friends, I drink beers and play Xbox. I'm closer to you than u think." While there may have been a time and place for Durant and Swift try to play the underdog role and act like they are just like any other "normal" person, that time has certainly passed.
This summer proved that they both couldn't just move on from many of these things. At every chance he gets, he defends his decision to sign with the Golden State Warriors even over a year later. And in true Swiftian "Look What You Made Me Do" fashion, Durant released shoes that quite literally step on hateful comments about him.
Now while Swift's song and Durant's shoes are laughably petty moves by adults in their late 20s, their need to defend himself and justify his actions to randos on the internet is pretty concerning.
Some in the Bay Area report that his Warriors teammates and others in the organization are "perplexed" by his strange behavior and constant need to address the past. And Durant is not receiving the backlash of his actions with ease, saying, "I haven't slept in two days, two nights. I haven't ate. It's crazy…."
I love Durant. I love how candid he is during his appearances on "The Bill Simmons Podcast." And putting my hate for Golden State aside, he and his team are incredible to watch. But Durant looks like a deeply unhappy superstar who is at the peak of his career as a basketball player. The guy just won a Finals MVP a little over three months ago, and he isn't eating, sleeping or moving on from the past. Remember how J.R. Smith reacts after winning his first NBA Finals? Imagine his summer if he was the MVP and a top-two player in the world. Westbrook seems to have moved on. The Warriors want Durant to move on, but he can't seem to. Regardless of your opinion of Durant's actions, everyone should hope he doesn't continue down this Kanye-esque downward spiral.