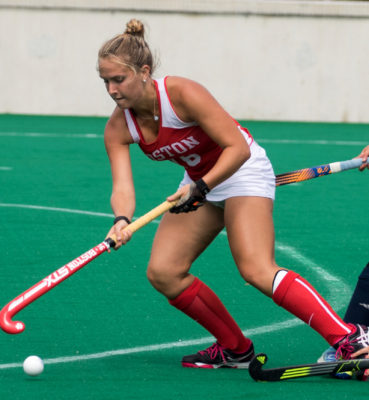 By Greg Levinsky and Joshua Rothstein
The Boston University field hockey team split a weekend series by beating Lafayette University 5-1 and losing to No. 17 Princeton University.
BU (5-4, 1-0 Patriot League) exacted some revenge on the Leopard's (5-4, 1-1 Patriot League), as Lafayette handed the Terriers their lone conference loss last season.
Head coach Sally Starr said she was hoping her team would improve its deny defense and double teaming after an 8-1 loss to the University of Connecticut.
"We got ourselves playing much more aggressively, and really trying to defend higher up in the circle," Starr said. "It was better, but it still can get better, but it certainly was an improvement."
BU was able to hold the Leopards to just three shots on goal, with freshman goalkeeper Millie Baker recording two saves.
In the 20th minute, the Terriers broke the deadlock. Freshmen forward Petra Hall scored her third goal of the season. Most of the work was done by junior forward Kara Enoch who was able to get by a Leopard defender and cross it to Hall who dove and redirected it in to open the scoring.
Just five minutes later, the Terriers doubled their advantage. Senior forward Grace Boston worked a pass and go with freshman forward Ailsa Connolly. Boston's shot was off Leopards sophomore goalkeeper Sarah Park, but it wasn't enough as the ball still looped into the back of the net to make it 2-0.
BU really started to pour it on in the 27th minute. It was Connolly this time, with this being her team-leading fourth goal of the season. She was able to pounce on a loose ball after a shot from Boston.
Lafayette was able to pull a goal back with just 37 seconds to play in the first half. Senior midfielder Ellen Colbourne was able to get the Leopards on the board. It was her third of the season.
The Terriers regained the three-goal lead in the 46th minute with Connolly again, her second of the afternoon.
BU capitalized on a late 68th minute corner as Connolly scored again. Sophomore midfielder Kiley Gallagher had the assist. Connolly's hat trick doubled her goals on the season from three to six.
A full week off of games helped Connolly and her teammates to refocus and shake off the recent losing streak.
"We're obviously pretty happy to comeback from three bad losses," Connolly said. "That little rest kind of helped to give me fresh legs out there and the energy was great."
Baker started in goal for the Terriers for the first time all season against Princeton (4-4). The Melbourne, Australia native saved both shots on goal she faced.
Gallagher had a chance to sneak one past Princeton goalkeeper Grace Baylis midway through the first half, but was unsuccessful thanks to a smothering of defenders.
Ultimately, the Tigers took the final 1-0 lead when sophomore Maggie Backsai netted an unassisted goal at the 48:39 mark.
Backsai's goal came against junior goalkeeper Kathleen Keegan. For the first time all season, Keegan came off the bench. The Terriers have used a half-by-half goalie scheme each game, but switched the order against Princeton.
Starr said she is impressed with her newest players.
"We knew it would be a strong freshman class, and I think they've matured a lot," Starr said. "Sometimes with young players [they're] inconsistent [at first], but we're at the point in the season where they become more consistent, we saw that with Alisa [Saturday]."