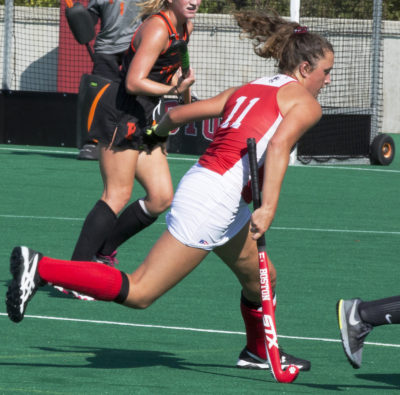 In her 18th season as assistant coach to the storied Sally Starr, Tracey Paul's role is more important than what comes to mind.

She plans games, is an integral part of each practice and is tasked with recruiting international students to play on Boston University's field hockey team.
"Well I am a foreigner myself, which certainly helps," said Paul, a New Zealand native. "You make contacts over time, so that's helpful. The internet is great, there are recruiting agencies and it just goes from there."
Paul said she also likes the opportunity to recruit players from her home country. Freshmen Petra Hall and Ailsa Connolly as well as junior Maika Akroyd are three "kiwis" on the current roster for whom she "has an affinity."
Alongside their New Zealander teammates, Australian freshmen Shannon Ma and Millie Baker round out up the international quintet on this year's roster.
For Connolly, Paul received an email "with an inquiry from her." Paul said Connolly's credentials and video highlights helped her decide to bring the "kiwi" on campus.
Hall arrived on campus for a different reason. Starr and Paul flew to New Zealand for a recruiting trip and spotted the forward/midfielder competing in a youth tournament.
Starr said she relinquished "all" international recruiting Paul.
"Being from New Zealand herself helps her to have a good eye when looking for athletes," Starr said.
Paul said that while she's had success in her home country, she does not always begin her recruiting trips there.
"I wouldn't say it is the first place I look," Paul said. "It's great for me if there is somebody down there that matches what we are looking for and is a kind of mix of everything."
The process of recruiting field hockey athletes differs from other sports. Paul said she uses recruiting websites often, but the information is not as readily available like it is with basketball and football recruiting on sites with robust databases like ESPN and Rivals.
Instead, Paul uses her contacts network around the world.
"After time you build relationships with people, and it just goes from there," Paul said.
Being at BU also presents a unique twist.
Paul said many of the inquiries she receives from prospective recruits are from athletically talented players who do not maintain the academic standing required of the institution.
"I get a lot of inquiries from internationals all over the world who just don't have the academic standards and capabilities to come to BU," Paul said.
When it comes to international recruiting, Paul said she recruits players for positions, not based on nationality.
"We go and look for specific positional players," Paul said. "When we look at players internationally, we definitely, as we do with our kids from this country, look at what we need for our team."