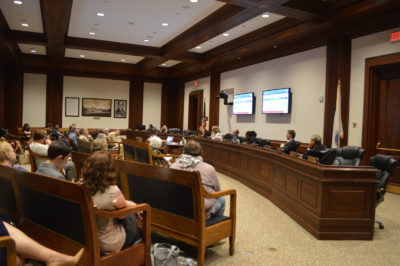 The Joint Committee on Public Health heard a bill that relates to physician-assisted suicide at the Massachusetts State House on Tuesday.
The bill, sponsored by Massachusetts Rep. Louis Kafka and Sen. Barbara L'Italien, would allow the legalization of physician-assisted suicide if the patient asks their doctor for life-ending medication, and has a terminal illness leaving them with six months or less to live, prior to meeting other criteria.
Massachusetts Citizens for Life and the Massachusetts Alliance Against Doctor Prescribed Suicide, along with several representatives, attended the hearings to stand against the bill.
"We oppose doctor-prescribed suicide because it is dangerous for people who are disabled, poor, sick, [and a] minority," Anne Fox, president of MCFL, wrote in an email before the hearing. "More than 20 states have voted down similar laws this year."
Fox wrote that the bill does not address enough of the concerns with physician-assisted suicide such as possible coercion of patients and the lack of precision when diagnosing terminal diseases and remaining lifetimes.
Robin Loughman, chairwoman of the MAADPS, wrote in an email before the hearing that she disagrees with physician-assisted suicide and believes if a patient wants to end their life they should be directed towards mental health counselors.
"I am a registered nurse," Loughman wrote. "If I ever had a patient tell me he wanted to kill himself, and that did happen, I wouldn't supply the means to do it. I would call the doctor to get a psychiatric consult and treatment. Terminally ill people deserve the same standard of care."
Several professionals invested in the issue testified in favor of the bill.
David Rosenthal, a physician who specializes in treating leukemia and other malignancies, said during the hearing his experiences as a medical professional have influenced him to support physician assisted suicide.
"When the pain and symptoms become too much to bear the options of a peaceful death provide many patients with a sense of dignity," said Rosenthal.
Eric Ruby, a physician and member of Compassion and Choices, said physician-assisted suicide helps ease anxiety of patients. Patients should have the right to choose when to end their pain, Ruby said.
"We give aid in living, doctors should be able to give aid in dying," Ruby said. "Studies indicate that medical aid in dying has had a net positive effect on hospice through more open conversations about end of life options, increased referrals to hospice, and reduced patient worry about future pain."
Drawing from her experiences as a social worker, Rebekah Gewirtz, executive director of the Massachusetts Chapter of the National Association of Social Workers, said she believes patients should be able to decide when to halt treatment.
"We do not believe that this legislation is about life or death, but rather about choices," Gewirtz said during the hearing. "We believe that the individual has a right to decide whether or not they want to continue treatment."
Several Massachusetts residents who testified during the meeting gave varying opinions on the issue.
Maria Arias, 35, of Newton, said she attended the hearing to listen to the testimonies of others and show her support.
"We are supporting life and want to speak aloud about it," Arias testified.
Andrea St. Germain, 71, of Yarmouth Port, said she attended the hearing with several peers in a show of solidarity.
"I am so for health, and want to preserve life, and I think this is opening the door to a slippery slope that's going to cause us to look at death as an option," St. Germain said. "Those individuals cannot help themselves, we are their voice."
Jerome Medalie, 92, of Dedham, said this is his third appearance before the Joint Committee on Public Health to speak out in support of similar bills concerning physician-assisted suicide.
"Give me some control over my death, and the circumstances of my death," Medalie said.
Following the hearing, the committee now has until March to cast their votes on these two bills.