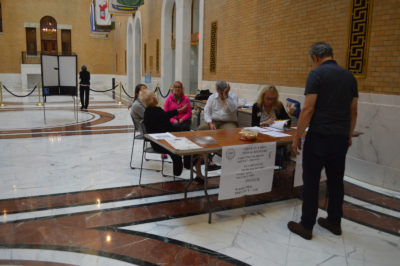 Incumbent Boston Mayor Martin Walsh and mayoral candidate Tito Jackson are advancing to the general election, which will be held on Nov. 7, after receiving the highest percentage of votes during Tuesday's preliminary mayoral election.
Over 55,000 votes were cast during the mayoral preliminary, with over 60 percent of individuals voting to reelect Walsh, and almost 30 percent of residents voting in favor of Jackson, according to the poll results on the City of Boston website.
Former school committee member Robert Cappucci came in third with almost 7 percent of ballots cast in his support. Health insurance worker Joseph Wiley rounded up the group with 0.95 percent of the votes. Write-in votes accounted for 0.76 percent of the total ballots cast.
Walsh delivered a speech on Tuesday night at the Local 103 IBEW center in Dorchester Tuesday evening, saying he was proud of his performance in the polls, but that he thinks voter turnout could have been higher.
"I did well in a few city council districts," Walsh said. "The big frustration I have is that we don't have a 90, 95 percent participation on our elections."
As the son of immigrant parents, Walsh said he will not relent in his efforts to help every Boston resident thrive.
"I needed a second chance," Walsh said. "I got my wish to live the dreams that I wanted to do. I will never stop fighting until every single Bostonian can live the same dream that I have."
Following the announcement of his advancement in the preliminary election, Jackson spoke to a crowd at the Harborside Bar and Luxury Lounge. Jackson said his campaign is working to assemble a diverse group of supporters that is representative of all citizens.
"We're going to put together the biggest, baddest, wokest, most multi-racial, multi-ethnic, multi-sexuality group of people that the City of Boston has ever seen, that raises all people, not just some people," Jackson said.
In dealing with race issues, Jackson said in place of symbolic gestures like erecting a statue of Martin Luther King Jr., the City should work to actually address important issues affecting residents, Jackson said.
"Where we not only talk about the issues of race, but we deal with racial disparities in city government," Jackson said. "In schools that now have an achievement gap that is widening rather than closing, and in a City of Boston where from Roxbury to Back Bay, there's a 33-year difference in life expectancy."
A few local residents who voted at the Boston City Hall polling station had various opinions on the preliminary elections.
Matt Clements, 30, of Beacon Hill, said he voted for Jackson in the preliminaries because it was important for him as a U.S. history teacher and fellow person of color to be civically engaged.
"I know that [the] turnout can be really low at these elections," Clements said. "I think for me, especially to have a person of color on the ballot, it is really important and for [the] mayor of Boston to have someone younger, someone who represents change … All of that is really important for me."
Cathy Lumpkins, 59, of Quincy, said she voted because it enables her to have a platform to voice her views, and said she cast her ballot for Walsh due to his genuine care for the city.
"[Walsh] expressed his concerns when he had that free speech rally about a month ago, and it just goes to show he cares about everybody, of all races and nationalities and different backgrounds," Lumpkins said.
Multiple Boston voters at the Kilachand Hall on Boston University's campus, said they voted for the lesser known mayoral candidates — Cappucci and Wiley — and stressed personal connections to local issues influenced their ballot choice.
Stephanie Knutson, 33, of Fenway, said she voted for Wiley because of his dedication to promoting accessible adult literacy classes, and said his stance on affordable housing also helped to win her vote.
"My husband is actually a recent immigrant, so he has been trying to find affordable English classes, and there's just not a lot out there," Knutson said. "And I think the housing situation affects everyone in Boston."
Chris Young, 46, of Kenmore, said people tend to be complacent in the mayoral elections, which leads to long-term stagnancy in the political office.
When asked why he said he voted for Capucci, Young said, "He's not Marty."
At the Boston Public Library polling station, Valerie Masin, 60, of Back Bay, said she sympathized with Jackson, but ultimately voted for Walsh.
"I live in Back Bay, which is considered one of the richer neighborhoods, but when I moved here there was more of a mix of people," Masin said. "I couldn't afford it today if I had to buy my house, but I was able to then."
Laney Ruckstuhl, Dave Sebastian, Hannah Schoenbaum, Alana Fialkoff, Mugdha Gurram, Haley Lerner and Isabel Owens contributed to the reporting of this article.