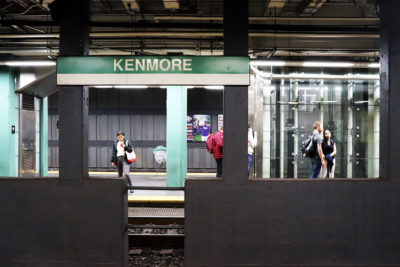 The Massachusetts Bay Transportation Authority issued the nation's first tax-exempt sustainability bonds, valued at a total of $370.3 million, this past Tuesday, setting a precedent of support for environmentally and socially beneficial projects.
Sustainability bonds act as more comprehensive green bonds, which exclusively fund projects with environmental benefits, by additionally supporting efforts that account for social considerations, said MBTA treasurer Paul Brandley.
The proceeds from these bonds will go toward projects approved by the MBTA's Sustainability Committee, according to an MBTA press release.
The International Capital Market Association established standards for determining project eligibility and tracking bond proceeds, according to the release. The MBTA has adopted a Sustainability Bond Framework to adhere to these standards.
While the first sustainability bond in the United States was issued by Starbucks in 2016, the MBTA's sustainability bonds are the first of its kind to be tax-exempt because they are issued by a public agency, Brandley said.
Brandley said the MBTA's undertaking of this new measure has significant benefits for all parties involved.
"We can issue debt at lower rates than private companies because the bondholders are willing to accept a lower interest rate because they're not paying taxes on it, so that brings down our cost of capital," Brandley said.
This effort the MBTA is spearheading as a public agency is part of a precedent of pioneering policies that the state has employed, in addition to being one of personal interest, Brandley said.
"The Commonwealth of Massachusetts was one of the first issuers of green bonds, so agencies in Massachusetts have been really innovative for quite a while now, but it really was sort of a personal interest of mine," Brandley said. "I have always been interested in channeling private capital to good public causes."
Of the approximately 250 projects in the MBTA capital investment program, Brandley said, over 100 are eligible for funding from sustainability bonds.
Brandley added in an email that among the nine banks who submitted bids for the sustainability bonds, Citibank was ultimately selected to purchase the sustainability bonds Tuesday morning.
"Citi will act as a distribution agent," Brandley wrote. "The ultimate bondholders could be asset managers […] pensions, endowments, high net worth individuals, insurance companies."
The end holders are currently unknown, and may remain so for a few months, Brandley wrote.
In an MBTA presentation on the new bonds, it lists the current sustainable project list as including: LoNo [Low or No Emission] and New Flyer Bus Procurement, Orange Line Traction Power Upgrade, Government Station Improvements, Elevator Program and Positive Train Control.
Kevin O'Brien, the community outreach organizer for the Massachusetts Sierra Club, said he hopes the MBTA will invest in electrifying their bus fleet, but that he is concerned about the economics of the sustainability bond system.
"[The Massachusetts Sierra Club] have been urging public transit agencies to invest in electrifying their bus fleets to replace diesel and diesel hybrid buses … but we continue to hear from them that they are too expensive," O'Brien said. "So, on its face, it seems like if you can spur investment in making changes like that, it would be a good thing, but if the boomerang comes back around and they have to pay more than they would've had to pay initially, then I don't know if it's the best way."
Several Boston residents expressed overall approval of the initiative, but said they had some reservations about its potential efficacy.
Anne Lundberg, 67, of Fenway, said while she supports green initiatives, she is unsure if the proposed policy arrangement will result in any improvement.
"Being more green has to happen. If it happens in little increments, that's fine," Lundberg said. "I think if you really want something to work though, you have to have a clear picture of the overview."
Kevin Edwards, 56, of Roxbury, said he was enthusiastic about the measure.
"I think it's a wonderful venture," Edwards said.
Jill Wylie-Sears, 48, of Allston, said while she is in favor of the MBTA making an effort to support the environment, she thinks there may be more appropriate ways to allocate these funds.
"On the one hand, I really like the idea that they're [MBTA] improving the environment," Wylie-Sears said. "On the other hand, they are already asking very high ticket prices for people who can barely afford them. So, instead of giving this money away, they could be charging less."