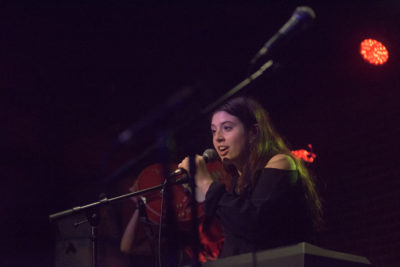 At age 6, Emma Jayne Seslowsky started learning how to play piano. At 14, she wrote songs to share with a supportive group of friends at sleepaway summer camp. Now, at 21, Seslowsky has released her debut album, "Jetlag."
Seslowsky is a senior studying journalism in Boston University's College of Communication, but she's more than just a student. According to her father, Eddie Seslowsky, she always had a passion for music. Her parents started her in piano lessons when she was young, and by the time she was in middle school, she was landing lead singing roles in her school's plays.
"You just see her really shine and start smiling when she's around music and musical instruments and musical folks," her father said.
"Jetlag" is a culmination of two years of hard work, writing and recording her innermost feelings on a variety of topics including love, family, self-confidence, self-searching, and independence, Seslowsky said.
"I always say [my music] is under the pop umbrella, but there's a lot of soul in it, there's some folk in it," Seslowsky said. "I took jazz piano for a long time, so there's a lot of jazz influences in it, too."
Seslowsky has played at a handful of local venues, including Club Passim, ONCE Somerville, and various BU events. She expressed that, even though she has overcome terrible performance anxiety over the years, she still prefers sharing the stage rather than basking in a spotlighted solo.
Most recently, she hosted her album release party on Sept. 22, where she played her entire album live at Bill's Bar in the Fenway neighborhood.
She was accompanied by her band made up entirely of fellow BU students and alum: bassist, Alexis Fahrney, a Questrom School of Business senior, guitarist Kelsey Hsu, who graduated from the College of Arts and Sciences in 2016, and Tyler Cotner, a College of Fine Arts senior.  
During the show at Bill's Bar, Seslowsky explained the meanings behind her songs for the audience. Between her jokes and dry humor, she shared short background stories of each song and how she was inspired to write it.
"Some musicians, when they go on tour, don't play every single song off the record, but I thought that was important to play the whole thing through and give people a chance to hear the entire thing," she said.
Songwriting is what's important to Seslowsky. She said she finds pleasure in being able to create lyrics that are easily relatable and leave an impact on people, and said she always hopes people can identify with her songs despite them being so personal to her own experiences and emotions.
"She has an incredible inner voice where she's able to express herself, I always say she writes like she's been around for 60 years," her father said.
Seslowsky compares the storytelling through songs to the storytelling she practices at BU as a journalism major.
She said she used to think that journalism and music were an odd combination, but, after working with other journalists-turned-musicians, she said she's come to the conclusion that at the end of the day, they're both just storytelling.
On "Jetlag," she said, "there's a lot of storytelling in it [the album] that I'm happy get out."
However, what Seslowsky does on stage goes much deeper. She's raw, vulnerable and doesn't just share her music sonically. She shares it in a sense of being open and explaining to her audience her points of view as if they're her close friends. She said she believes there's a true connection formed with her audiences because of this.
Seslowsky said that music and writing this album specifically has served has a huge coping mechanism to help herself through periods of anxiety, depression and change. Once she puts an emotion into a song, that emotion is tabled for the time being and she can move on from it.
"This album feels like the ultimate [portrayal] of myself. I just feel really proud of it," she said. "I feel like it presents me really well … I hope people like it as much as I do."