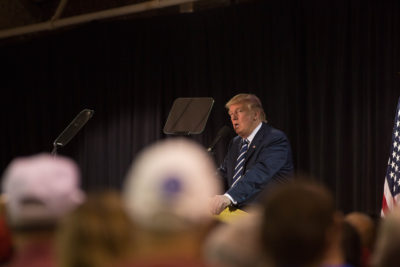 In February 2016, I published an article in this very column at The Daily Free Press titled  "When Sports and Politics Collide." In that article, I said that sports are at their best when they can unite people across barriers of polarization, whether it be racial, political, religious or whatever other hot-button issues. While this is true and there are moments in the past that prove sports can be a catalyst for unity, fans of the NFL need to realize that last weekend's protest was a timely reaction to our president's comments and have only clouded the issue further.
President Donald Trump said "Wouldn't you love to see one of these NFL owners, when somebody disrespects our flag, to say, 'Get that son of a b***h off the field right now. Out! He's fired. He's fired!'" Taking this comment out of context provides us with a straightforward expression of patriotism that many people have already voiced. Without context, these comments are Trump's way of standing up against people that he believes are disrespecting America. Put these comments back into the context of all the other comments he has made since his campaign began and the sociopolitical climate our president has created, and not much has changed — this is nothing new.
Regardless of whether you believe Trump's comments about Colin Kaepernick and other players who choose to peacefully protest during the national anthem of were just another one of off the cuff comments at a rally, calculated pandering to his base supporters, a distraction from multiple failed attempts by Republicans at drafting a reasonable health care bill, or to bury his lack of response to the disaster to thousands of Americans in Puerto Rico, the NFL as a whole showed just how not self aware they are.
In a league where the vast majority of owners are old, white guys and 70 percent of its players are African-American, one-fifth of the league's team owners donated upwards of 1 million dollars to the Trump campaign and now seem to have a problem with him?
The reason this stance that NFL players, coaches and owners took in Week 3 seem to be self-servingly disingenuous is because it is no longer the same protest. This protest is now about the NFL versus Trump.
These comments don't even crack the top ten of the worst and most outlandish things Trump has said, but the majority of the NFL made this their last straw. What he has said about Mexicans and women didn't spark this widespread protest. Neither did his inability to denounce the white supremacist groups or his travel ban. Even in a league so closely tied to the United States military, not even his disparaging remarks about both John McCain and the family of Humayun Khan got the NFL to finally react.
Former NFL coach and current ESPN commentator Rex Ryan is now going on ESPN and walking back his support for Trump, after agreeing to introduce the then-presidential candidate at a rally in Buffalo
"I'm pissed off. I'll be honest with you. Because I supported Donald Trump. When he asked me to introduce him at a rally in Buffalo," Ryan said, "I did that. But I'm reading these comments and it's appalling to me and I'm sure it's appalling to almost any citizen in our country. It should be."
Come on Rex. These are the Trump comments that you find appalling? You obviously were not paying attention to who you were supporting. Jerry Jones, Dan Snyder and Shahid Khan, is this the breaking point that has you down on the field supporting your players? The man you actively supported to lead our country has proved time and time again to turn a blind eye to the issues of Kaepernick, Malcolm Jenkins and others are committed to helping fix.
This whole situation has proved that people, in this case, those in the NFL who did not take action until Week 3, don't care until they and those closest to them are threatened. The president attacked the NFL, and just like any other small, exclusive club, they are showing a "united" front against the aggressor. But this is the problem now; the NFL has hijacked the meaning of this protest. The narrative of the protest is now about taking a stand for unity, not taking a stand against inequality and racial injustice.