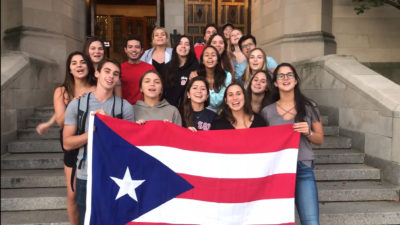 Abuela's vibrant garden in the coastal capital city of San Juan, Puerto Rico holds the happiest childhood memories for College of Arts and Sciences junior Sofía Cintron-Schroeder. She said she can almost smell the vivid fragrances of the flowers and feel the warm sun on her cheeks when her mind travels home to Puerto Rico.
"Her garden was my happy place," Cintron-Schroeder said, "until about a week ago."
Hurricane Maria, a category 4 storm, devastated the island territory of Puerto Rico last week, obliterating villages, destroying the electrical grid and leaving residents to scavenge for essential resources, said Rady Roldan-Figueroa, a religious history professor from Puerto Rico.
In the aftermath of Hurricane Maria, Cintron-Schroeder said her abuela's garden was no longer recognizable.
"I wasn't able to get out of bed that day," Cintron-Schroeder said. "There's no worse feeling than knowing something terrible is happening to your loved ones, and you can't help because you're stuck somewhere else."
The students who left the island territory to attend BU struggled to contact their relatives following the hurricane, but those who reached their family discovered a grim reality on the other side of the line.
Alexander Díaz, a junior in CAS, said he felt frustrated by the worsening medical conditions that resulted from the deprivation of water and other crucial resources in his area of the island. He said he fears for the safety of his family in his small western hometown of Mayagüez because he believes the government sees his town as too insignificant to warrant proper aid.
"She's starting to get sick," Díaz said of his mother, a nephrologist at the hospital in Mayagüez, "and she's having a hard time finding antibiotics, even as a physician."
Díaz explained that water shortages across the island are preventing physicians like his mother from performing their procedures, causing illnesses to infect entire towns like his own.
"What's going on is there's not enough water for her to dialyze her patients because, unfortunately, and as bad as this sounds," Díaz said, "while San Juan doesn't have water, we're just not a priority on my side of the island."
Andrea Hernández, a sophomore in the School of Education, said she experienced prolonged  stress when the hurricane cut off her ability to communicate with her family in San Juan. She said she felt lost when neither the BU administration nor the student body extended their support.
"I was heartbroken that all my friends were receiving support at different universities," Hernández said, "and I wasn't getting that from BU."
Hernández said her friends at other universities received emails from their deans offering support and good wishes to their families. The students were also provided free therapy sessions and immediate faculty involvement in planning bake sales and drives.
"BU is our second home," Hernández said, "and an email knowing they were conscious of what we were going through would've been nice. It would've felt like our extended family here was there for us."
The students organized under the name Terriers for Puerto Rico, through which they planned a supply drive that will run in the George Sherman Union on Oct. 2 from 9 a.m. to 5 p.m. The group is asking students to donate toiletries, batteries and non-perishable foods.
Roldan-Figueroa realized the need for Puerto Rican students to verbalize their emotions in wake of the tragedy. He organized a meeting on Sept. 26 where Puerto Rican students gathered to discuss their concerns and plans of action.
"I figured it would be good to reach out to them and see how they were coping," Roldán-Figueroa said, "and I had not heard anything happening at the university for those students."
Roldan-Figueroa said he was impressed by the undergraduates who organized the supply drive and assisted them by emailing Dean of Students Kenneth Elmore to discuss promotion for the drive and funding for supply transportation. Roldán-Figueroa also conveyed the students' feelings to the administration.
"The faculty who became aware of the situation were very responsive," Roldan-Figueroa said. "I think the university can show its support now by making sure people are aware of the drive. Then, it falls on the student community to collect as many supplies as we can send to the island."
Elmore said the Dean of Students office is prepared to help affected students in any way they can.
"We reached out to [affected students] to say, 'Hey, we feel it, we understand. Let us know if we can be of help,'" he said. "We'll support students in whatever way they think they want to be able to provide that kind of relief."