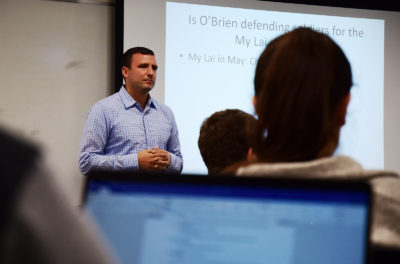 After over a year of negotiations and threats of a lecturers' strike, the Boston University administration reached their first-ever agreement with about 250 members of SEIU Local 509 on Friday.
Katherine Lakin-Shultz, an active union member and lecturer at BU, said the three-year agreement stipulates that BU lecturers will receive pay increases during each year of the contract along with income security and the establishment of a fund for paid professional development. The lecturers, who unionized in April 2016 in hopes of achieving higher salaries and better job security, are teachers at BU who are not tenured and do not have the promise of becoming tenured as professors do.
Julie Sandell, associate provost for faculty affairs, wrote in an email that about 10 percent of the faculty on BU's Charles River Campus are salaried lecturers and instructors who are now covered by the union contract.
"These are skilled and dedicated faculty members, who primarily concentrate on teaching," Sandell wrote. "They play an especially large role in several programs, including language instruction, the Writing Program and CGS, among others."
Sandell worked on negotiations from the university's end along with BU's chief negotiator, Juditra Burgess, director of labor relations.
"Our goal was a fair and balanced contract that provided clarity on all aspects of employment," Sandell wrote.
In addition to the paid professional fund, the university has agreed to set up an additional fund to recognize lecturers who have proven to be particularly distinguished in the BU community beginning in September 2018, according to Lakin-Schultz.
Lakin-Schultz, who is the head of the French language program at BU, said the agreement is tentative, pending a ratification vote by members of the union.
On average, lecturers will receive a 15 percent salary increase in the first year of the contract and the lowest-paid lecturers will see the most dramatic salary hike, Lakin-Schultz said. She added that the agreement with the university will benefit the entire BU community.
"Anything that allows all members of the faculty to have an open dialogue with the administration that actually is effective to create positive and intangible change will directly benefit workers and students and will be really positive," Lakin-Schultz said.
Lakin-Schultz added that the lecturers had publicly planned to walk out on Oct. 11 in an Unfair Labor Practice strike. The long-awaited settlement averted the strike, but the settlement came months after the National Labor Relations Board issued an official complaint against BU for concealing data about professors' salaries and workloads, according to a Sept. 29 article in The Boston Globe.
Several lecturers involved in the negotiations said they think the terms of the new contract will improve the quality of education as a whole at BU.
Seth Blumenthal, a lecturer in the College of Arts and Sciences writing program, wrote in an email that he thinks the agreement is a big step forward for lecturers.
"We think this is a great start that significantly raises the floor for the lowest paid lecturers, and we appreciate that the BU administration has made an impressive investment in its faculty," Blumenthal wrote. "This is really a win for BU students, attracting and keeping the best faculty while helping lecturers focus on what they do at BU … teach."
Another lecturer in the CAS writing program, William Marx, wrote in an email that the terms of the agreement provide key improvements to lecturers.
"The negotiations showed the strength, determination and passion of this union and its members," he wrote. "The salary increases were of vital importance to the members. A full-time lectureship at BU should offer a living wage in a city as expensive to live in as Boston."
Marx added that the settlement marks a pivot in the relationship between the university and its lecturers.
"We have begun to turn an embarrassing situation around," he wrote. "There were also important gains made regarding transparency, professional development and job security. This is the first step in making the voices of the full-time lecturers heard. We will no longer be treated like second-class citizens at the University."
Several students said they were happy lecturers will see improvements in working conditions with the recent agreement.
Wenyi Jiang, a junior in the College of Communication, said she thinks giving appropriate benefits and wages to lecturers benefits the student population as a result.
"It is really important that teachers get what they want so that they can teach us better," Jiang said. "It's really simple, but I think a lot of time it's not being done."
Daniel Ronkin, a CAS sophomore, said he thinks these benefits will incentivize other educators to become lecturers at BU.
"It would attract other lecturers, and we'd want to give them that job opportunity," Ronkin said. "If they're putting in the work, then they should be treated accordingly," he added.
Ronkin also said he thinks the agreement could help even the playing field among lecturers and professors at BU.
"Since [lecturers] already working as hard [as professors], you would kind of want them to be reimbursed for that, for the amount of working that they're doing," Ronkin said. "It would give them an equal standing between a lecturer and a professor. If they're putting in the work then they should be treated accordingly."
Adriana Joyce, a CAS freshman, said she thinks lecturers should be properly compensated for all the work they do.
"If the lecturers really are being treated unfairly, then I think this is good for them," Joyce said. "If they're doing sufficient work compared to the professors then they deserve sufficient pay and job security. It's helpful for them to be paid more and to be secure in their jobs just like the professors."