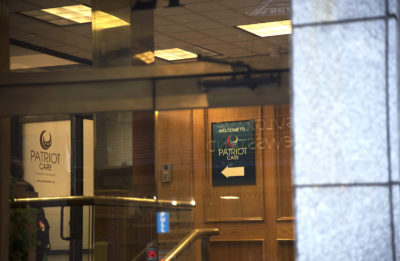 Pro-marijuana advocates are currently discussing a bill that would prevent Massachusetts towns that are trying to restrict recreational marijuana operations from collecting their share of cannabis retail sale tax revenue.
The Massachusetts Recreational Consumer Council, along with other proponents of Question 4, have been in talks about the bill, which they hope will reach the hands of state legislators this January, Kamani Jefferson, president of the the council, said.
Since the legalization of recreational marijuana back in November, over 100 municipalities in the state have set bans, moratoriums and other tight limitations on the legal sale of marijuana. Despite towns' pushback, they will still benefit from the revenue of the recreational marijuana market, Jefferson said.
"Any sensible person would agree, why should you get tax money if you don't have it in your town, it just doesn't make any sense," Jefferson said. "I think it will catch on even to the people who may not be in love with marijuana. If you don't put any work in, you shouldn't get any benefits is what we're really proposing to the Commonwealth."
Jefferson said by restricting these towns' access to revenue from legalized marijuana, the municipalities might reverse their decision to enforce restrictions on the market.
"Money talks in this country, so I know for a fact some of the towns that said no, give them a couple of years," Jefferson said. "Not to mention [in] 2020, we can put up a municipal vote, a referendum vote, in every town no matter how they voted on Question 4."
In states such as Colorado and Oregon that are years into the legalization process for recreational marijuana, similar blocks have been enacted to discourage towns from banning sales, Jefferson said. Many towns in Colorado have begun to overturn bans on dispensaries and sales after seeing the surpluses other towns were receiving. The MRCC expects to see the same kind of shift in public opinion if this proposal goes through.
Geoff Beckwith, executive director and CEO of the Massachusetts Municipal Association, said the proposal Jefferson and other marijuana lobbyists are working on isn't practical in the long-run and isn't an actual proposition, as of now, that could realistically be put into place.
"This is a punitive suggestion that is merely a political talking point by commercial marijuana lobbies," Beckwith said. "There is no actionable public policy proposal that could be implemented."
Bill Downing, the member liaison for the Massachusetts Cannabis Reform Coalition, said this idea isn't worth pursuing as there are other cannabis-related issues that people could be focusing on.
"The language that would be required for that kind of bill would be frankly, very, very complex because what you're talking about doing is calculating what fortune of the general fund is associated with the cannabis revenue and then trying to figure out how that should be apportioned as a part of state funding for the town," Downing said. "All of the municipalities that have voted against [Question 4] are all going to be up in arms against this kind of legislation. You're going to have galvanized opposition."
Several Boston residents are divided on whether towns and cities that have imposed obstructions to the recreational marijuana industry should lose this potential revenue or not.
Brandy Smith, 33, of East Boston, said towns shouldn't be receiving money if they don't want marijuana in their municipality.
"It's understandable for towns not wanting cannabis in their communities," Smith said. "The towns shouldn't get anything if they aren't supporting it."
Annie Anderson, 36, of East Boston, said she thinks towns deserve the money even if they do not support recreational marijuana sales.
"The money is distributed by the state and the towns shouldn't be punished for not wanting marijuana in their neighborhood," Anderson said.
Chris Whitz, 46, of Downtown Boston, said he thinks all communities should receive the tax revenue from marijuana sales.
"All towns can use more money to make their communities better," Whitz said. "It is hard to justify taking away funding for towns."
Breanne Kovatch contributed to the reporting of this article.