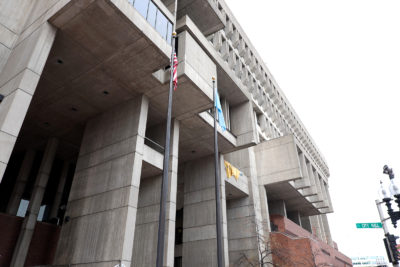 Boston City Council approved the Jim Brooks Community Stabilization Act Wednesday, a policy that aims to inform tenants facing evictions of their rights and further their protections under state law.
The act, meant to protect and inform tenants and homeowners, was first filed for City Council by Boston Mayor Martin Walsh in Dec. 2016, and will be signed in approval by the mayor Friday, according to a press release from Walsh's office.
The petition requires landlords to notify the City of Boston's Office of Housing Stability with a copy of any lease non-renewal letter within two days of serving the notice to the tenant, according to a release from the City of Boston in 2016. Failure to provide the city with notice would cancel a landlord's right to proceed with the eviction.
Darnell Johnson, the Boston coordinator at Right to the City Alliance, an organization meant to protect the supplanting of low-income or marginalized people, said homeowners often do not recognize their own entitlements.
"Currently countless tenants leave not understanding that they do have rights," Johnson said. "The City has no capability to even track the number of evictions occurring in Boston, a factor advocates say has contributed to the current affordability crisis."
The act would authorize Boston, ranked America's number one most economically unequal city in a 2016 [Brookings Institution] study, to track the number of evictions occurring in the city by requiring landlords to report "notice to quit" letters to tenants, Johnson said. This would give homeowners a chance to understand the resources available to them.
Steve Meacham, the organizing coordinator for City Life/Vida Urbana, an organization whose mission is to provide individuals with economic justice, said the organization is pleased with the result of the bill, though they hoped for more immediate monetary support.
"Although housing justice groups like City Life would have wanted something stronger, something that would provide some direct relief from skyrocketing rents, this bill is nevertheless important," Meacham said. "City Life is pretty successful in defending tenants against large landlords and in defending homeowners against banks under existing state law when people reach us. But most people do not reach us."
Helen Matthews, the City Life/Vida Urbana communications manager, said although the bill passed City Council, the organization must continue to be attentive.
"The implementation is important and we have to be vigilant and make sure that it is being implemented fairly and as intended," Matthews said. "The large corporate landlords that we deal with every day, such as City Realty Group  […] are rent-hiking and evicting a lot of working class families of color who come to us and say, 'I got a $700 a month rent increase and I've lived in my apartment for 35 years.'"
Several Boston residents expressed varying opinions on the necessity of the bill.
Alain Cabache, 54, of Jamaica Plain, said Boston rent prices can be costly.
"Rents in Boston are ridiculous and it's not surprising that people can't afford to pay," Cabache said. "I believe there is some sort of limit to how much a landlord can increase the rent year on year, and that's a good thing."
Jonathan Vaz Closs, 26, of Brighton, said tenants should know the housing bylaws already.
"People should know their rights," Vase Closs said. "They should just do it for themselves. I really don't understand the point [of the bill]."
Maggie Madsen, 22, of Brighton, said she heard about rent hikes, though it is subject to the property-owner.
"It depends on the landlord," Madsen said. "I haven't heard about evictions but I definitely heard about rent increasing, especially in my neighborhood."
Beatrice Brown contributed to the reporting of this article.