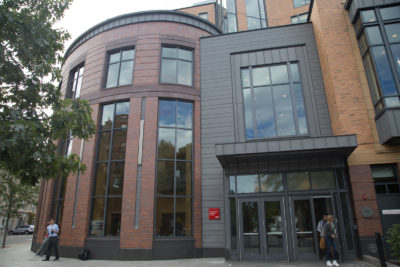 Environment America, a national environmental advocacy organization, launched its renewable energy campaign in collaboration with Divest BU — a student group that pushes for fossil fuel divestment — Thursday morning in front of the Yawkey Center for Student Services.
During the launch, Environment America representatives released a guide for Boston University that detailed strategies they can employ to move towards a 100 percent renewable energy system by 2050.
These recommendations aim to influence the university's Climate Action Task Force's recently-released draft report, Environment America clean energy fellow Jake Taber said.
"BU is a great case because they have the Task Force recommendations that were recently released that recommend that the trustees pass a lot of the measures we're really hoping for," Taber said before the launch.
While the Task Force's proposed plan advocated for 100 percent renewable electricity, Environment America called upon BU to institute a plan for 100 percent renewable energy overall.
"We are also advocating for solutions in the energy efficiency, heating and cooling and transportation realms because we want to raise the profile of these solutions," Taber said before the launch.
Divest BU's outreach coordinator Alex Kerr noted CAP's campaign is more realistic for BU. Still, he said he liked the idea of 100 percent renewable energy in all areas.
"One hundred percent renewable energy is more ideal because it is better for the environment as it further lowers emissions by our campus and demonstrates BU's commitment to sustainability," Kerr said before the event.
In his opening remarks, Taber said the process of implementing renewable energy solutions is feasible and beneficial to colleges, their students and the environment.
"Colleges and universities are hotspots of innovation and technical expertise. By deploying renewable energy on campus, colleges and universities can also save costs in the long run on energy use and can create educational opportunities," Taber said.
He emphasized the importance of amplifying youth voices in environmental activism.
"When we push for 100 percent renewable energy on campus, we can train young activists, future leaders and researchers to go back to their communities and fight and advocate for renewable energy," Taber said.
BU earth science professor Nathan Phillips spoke at the launch and said he supported the initiatives proposed by both Environment America and the Climate Action Task Force.
"We are gaining more and more power every day when we see groups like Environment America," Phillips said. "[We are] creating the connective tissue that is linking us across our institutions, not just in Greater Boston, but across the nation."
He drew attention to communities impacted by recent natural disasters in Florida, Puerto Rico and Houston, which he said were aggravated by the fossil fuel industry.
Ultimately, the future implementation of a renewable energy plan at BU lies in the hands of its Board of Trustees, Phillips said.
Phillips said students must continue to push the Board of Trustees to adopt the most progressive plan for renewable energy.
"The groundswell of activity of students is the leadership we need to get to the future that we have to have," Phillips said. "If we just let it go at this point, I would guess that they're going to take the easiest way out, which is 80 percent [renewable energy] by 2050. They need to be pushed to make the right decision at every step of the way."
Divest BU representative Kerr, a junior in the College of Arts and Sciences, concluded the launch by saying that her organization is skeptical about the motives of certain Board of Trustees members.
"It should also be noted that four of the Board of the Trustees members has direct ties with the fossil fuel industry," Kerr said. "They did not excuse themselves from the vote when the Board of Trustees met up for divestment last year."
The Climate Action Task Force will be holding a public forum on Oct. 24 for students to share their thoughts on the CAP proposal.
CORRECTION: A previous version of this article misstated that Jake Tauber's name was Jacob. This article reflects the update.