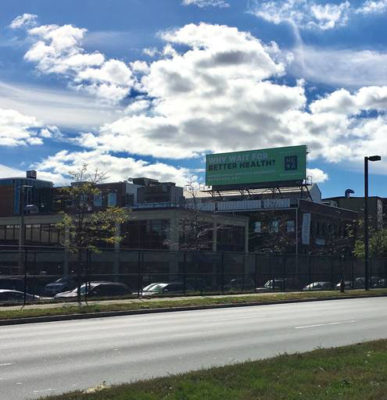 The first billboard advertisements in Massachusetts — including one in Boston — to publicize the regulated marijuana industry went up on Monday to promote the New England Treatment Access, a medical marijuana dispensary.
The purpose of the billboard advertisements is to encourage patients who may benefit from the use of medical marijuana to engage in a discussion with their doctor on the treatment, Norton Arbelaez, director of government affairs for NETA, wrote in an email.
"This is an education campaign," Arbelaez wrote. "This campaign wants to highlight the safety value of the registered market and to displace the unsafe and unregulated market."
The campaign is focused on delivering this educational message to two demographics in particular, he wrote.
"The ads are directed at [two] groups — those who have considered using medical marijuana but never followed through on that conversation with their physician and those who get their untested marijuana from the black or gray market, a true unknown for the patient," Arbelaez wrote.
While there are about 45,000 registered medical marijuana patients in Massachusetts, many do not receive the drug from legal dispensaries, Arbelaez wrote.
"Based on NETA's studies of use rates in other states, this would suggest that up to 120,000 patients could be eligible and benefit from medical marijuana in this state," Arbelaez wrote.
NETA currently advertises on four billboards throughout Massachusetts: two located on the Massachusetts Turnpike in Chicopee, one in Somerville and another directly off the expressway in Boston, Arbelaez wrote.
Under an "Act to Ensure Safe Access to Marijuana," businesses in the state cannot advertise recreational marijuana and related products in any outlet unless 85 percent of its audience is reasonably proven to be over 21 years old, Arbelaez wrote.
While NETA is not subject to this regulation, they decided to comply with it as a precaution, confirming the makeup of the audience with billboard companies prior to placing the ads in the commissioned areas, Arbelaez wrote.
"We wanted to be very careful as we considered the message," Arbelaez wrote. "Medical marijuana is currently not subject to that rule, but NETA sought a legal opinion and took the most restrictive approach."
Jordan Walton, the executive director of the Massachusetts Broadcasters Association, said the group recommends that its stations do not accept recreational or medical marijuana advertising because the substance is banned at the federal level.
"For a radio or TV station, they certainly risk their license when it comes to renewal time if someone decides to fight them on [marijuana advertising]," Walton said.
Joseph Gilmore, co-founder of the Massachusetts Recreational Consumer Council — an organization that advocates for the safety and wellbeing of parties involved in the recreational marijuana industry — wrote that the group supports marijuana advertisement as long as it doesn't directly target children.  
However, this advertising measure demonstrates the influence major companies have relative to local businesses, Gilmore wrote.
"If a smaller independent company tried [advertising on billboards] they would likely be penalized and reprimanded," Gilmore wrote. "New England Treatment Access … marks the beginning of the commercialization and commodification of big marijuana."
Due to NETA's allowance to advertise, more local cannabis companies should also be permitted to do so, Gilmore wrote.
Several Boston residents expressed varying opinions on NETA's advertising of medical marijuana.  
Shaeil Mayers, 22, of Allston, said the advertisement of medical marijuana is a beneficial initiative.
"Having ads up is a good way for people to get exposure to [medical marijuana] and stop having all the preconceived notions that it's bad," Mayers said.
Natasha Michel, 27, of Brighton, said she is indifferent to the advertisement of medical marijuana. 
"If it's something that you use, then great, now you have access to it, but if it's something that you don't use, then don't go," Michel said. 
Abhay Kanodia, 25, of Brighton, said despite his support of medical marijuana, NETA billboard advertisements go too far.
"They should not really advertise it because most of the people who take it are teenagers and those who do not have full information about it," Kanodia said.