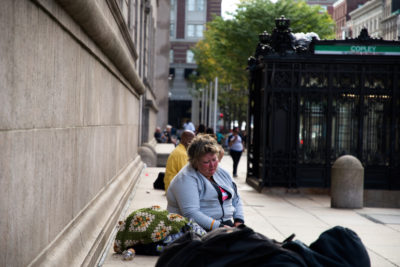 Boston Mayor Martin Walsh announced Friday the appointment of a new full-time outreach manager specializing in providing resources to homeless individuals in need based at the Boston Public Library.
The BPL's new permanent manager will be surrounded by a team offering assessment, crisis intervention and intensive case management services to homeless people located in close proximity to the BPL, according to a press release from the library. The fresh hire, which has been in the works since June, will be based at the BPL's Central Library in Copley Square.
The new position will be filled by Mike Bunch, an existing outreach case manager social worker at Pine Street Inn, according to the release. Bunch formerly worked as a Peace Corps volunteer, in addition to aiding shelter and treatment providers in Austin, Texas. The job will be managed in partnership with Pine Street Inn.
Rosemary Lavery, the senior public relations associate at the BPL, wrote in an email the BPL's venture is part of the City's efforts to support homeless individuals.
"It is our hope that this new outreach worker will connect homeless patrons with critical assistance and support to reduce Boston's homeless population," Lavery wrote. "This is part of Mayor Walsh's work to ensure Boston provides opportunities for everyone."
Lavery wrote both the BPL and Pine Street Inn are dedicated to serving the homeless, a group that has swelled in numbers in recent months.
"We have seen an increase in homeless patrons in and around our libraries recently and together with the City of Boston's Department of Neighborhood Development and the Pine Street Inn, we are committed to helping them access the resources they need," Lavery wrote.
In addition to hiring Bunch, the BPL will also employ a reference librarian specializing in health and human services to its staff, according to the release. Other resources include a recently launched addiction recovery guide encompassing information regarding substance use and recovery services, and a Housing, Health Hunger and Help Resource Guide. Both handbooks were previewed at a recent library board meeting.  
Shannon Arnold, a spokesperson for FamilyAid Boston, an organization which provides families with shelter and support services, wrote in an email homelessness in Boston is an imperative civic issue.
"The effort by the Boston Public Library and the City to provide outreach and case management to individuals experiencing homelessness is a laudable and welcome effort to meet an urgent community need," Arnold wrote. "There are many excellent agencies providing services to people experiencing homelessness in the city, and this venture will help connect more people to the services they need."
Carrie Neff, the special events coordinator for HomeStart, Inc., an organization that works to prevent and ultimately end homelessness in the Greater Boston area, said she hopes the BPL continues to receive fiscal support for this undertaking.
"We want to make sure that the funding for this endeavor continues and that it becomes something that is a sustainable position," Neff said. "I hope it's not just a one-off, but something that continues to affect the community for years to come."
Boston residents said they agree homelessness is a pressing concern in Boston.
Anna Palmer, 58, of Dorchester, said having a round-the-clock manager is a step in the right direction.
"Having one full-time staff is an interesting move by the library, and I think it will pay off," Palmer said. "Having at least one devoted person working solely on the crisis will most definitely at least improve the situation."
Deborah Shaw, 53, of South Boston, said the BPL has always been available to help struggling residents.
"Homelessness in Boston is actually a real problem," Shaw said. "I love the idea of this program if it can help the homeless here in Boston. The library has always been great with helping those in need, and this further progresses that idea."
Darrin Hawkins, 51, of Allston, said homelessness has worsened in Boston over the past several years, a problem which needs to be resolved.
"I actually read a report recently saying that homelessness has doubled over the past nine years in Boston," Hawkins said. "That's definitely one of the largest increases in the nation. If that could improve, it would do a lot to help the community, especially the homeless with children or who are struggling with addiction."