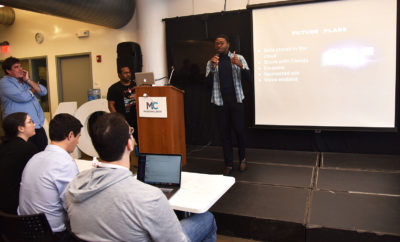 In the past, it was necessary to hand-code information and data into an app in order for it to have better, more efficient responses. Now, information is fed into a program, and the application makes its improvements at a much faster rate than any single person could, all thanks to a new interdisciplinary study of technology: data science.
Students, CEOs and everyone in between came together at the Cognitive Builder Faire to learn about this field. In three days, this group learned about data science and challenged themselves to create smarter applications in a builder hackathon over the weekend.
Galvanize, Inc., an educational tech company, partnered with IBM Watson Health to organize this event at the MassChallenge headquarters in Boston.
The day kicked off with a keynote speech from Prasad Chalasani, chief scientist at MediaMath, who talked about how data science impacts advertising specifically. He presented on how observing data can ultimately test the productivity of advertisements by showing how much profit comes from ad exposure.
In this and other presentations, it was up to the participants to see how they wanted to put data science to use.
"People came here with ideas for applications that can be made smarter with data science and our goal for them is leave Sunday with that built," said Chyld Medford, a principal instructor of Data Science at Galvanize.
Examples of data science are seen in daily life from facial recognition in Apple photos to driverless cars.
"Understanding this technology will be key in any field in the future, not just technology," Pawan Trivedi, 41, of Boston, an attendee of the event and Solutions Architect at Syntel, said. "That's one of the reasons I am here."
The main seminars of the event were led by Alex Alkson and Joseph Santarcangelo, both IBM developer advocates. They demonstrated IBM's technology at work through the application Foursquare API and then encouraged the attendees to explore how to utilize all the data at their disposal with IBM Bluemix.
"We want make the people who come here comfortable with data science and then show them how it can enhance their products," Santarcangelo said.
With so many competitors in this field from Microsoft to Google, IBM placed an emphasis during this faire on Bluemix, an IBM Data Science software that focuses on an attempt to grow IBM's customer base.
After information sessions on Saturday, the attendees deliberated together in a product pitch session. With possible product ideas on the table and a great deal of new knowledge, the participants broke up into teams and began to build.
"This is a hands-on seminar," Alkson said. "We are not just telling them the possibilities that IBM's Data science app has, but rather we are asking them to use it to create smart apps."
For 12 hours split across two days, the teams worked tirelessly to put together their products.
On Sunday, the participants in the hackathon presented their new developments to the entire seminar with prizes being awarded to the best team.
The Cognitive Builder Faire also provided a number of food items from recipes developed by IBM's Chef Watson, an artificial cooking app. This "cognitive cooker" uses ingredient data in order to produce unique recipes, placing a spin on typical hors d'oeuvres.
IBM's data science technologies are not just limited to the technology and culinary fields, but actually expand to medicine as well with the Watson Health. Located in Cambridge, the lab is currently using data collected from a number of doctors and patients in order to look for medical solutions.
"Data science is a fast moving topic. It never is stagnant," Santarcangelo said. "You always have to learn something new and it is going to make a huge impact in the future."